Inside: The Biggest List of Printable Games Ever – 200 + Game Ideas.
As you can tell by this list there are dozens of different themes that are used for printable games, making them one of the best and most efficient ways to plan fun activities for any event. I love using printable games for large get-togethers like showers, holidays, and especially for entertaining the kiddos on long trips.
They are easy to plan and make such great ice breakers and time wasters. Here is the ultimate list of printable games and how we use them for almost every event.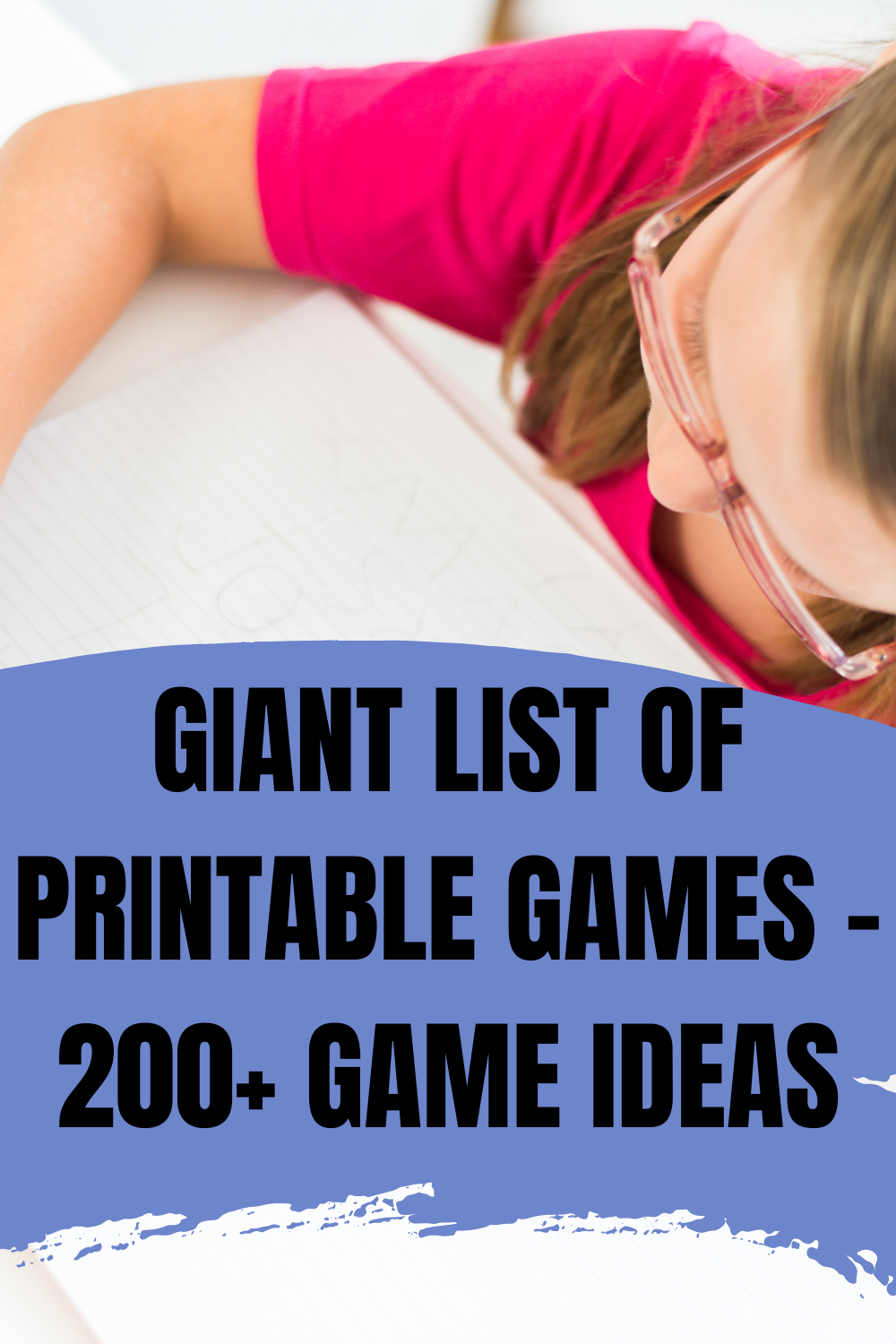 What's the Deal with Printable Games?
One of the main reasons we love printable games so much is their versatility. They are so fun to use for specific events like baby showers, birthdays, and family holidays. You can customize most to match your family or party honoree. Most typical store-bought games (which we also love) don't have a theme to match certain events. But when you plan a printable game they can be tuned to match the theme to any party.
They are easy to print, plan, and keep. Plus all you need is some paper and pens and you're ready to play! There are no loose pieces to keep track of.
How to Print and Keep Games
There are so many different ways to print off and keep your printable games for future use. One of my favorite ways to print these games is to use thicker cardstock paper, this way they seem nicer and well put together. Most printable games are used as a one time play, but I like to laminate my games for any future events. You can use dry erase markers to play over and over again.
The laminating technique is usually best for games like travel, birthday, and holiday printables. For games that require to be customized that is not your best option.
Classic Printable Games Everyone Will Love
Classic Mash Games: Channel back to your 80's self with the classic game MASH! This printable makes for a fun game to share with your classmates or friends. Or print some out for the ultimate party game. The best part- if you are unhappy with the hands you were dealt (your future), just print another and play again. These super fun printable Mash Games are perfect for your next slumber party or girls night!
Printable Ice Breaker Games: Celebrating birthdays, babies, reunions, weddings, or just friends is a great way to get together with your favorite people in the world and have a great time. If you're anything like me, you might have several different friend groups or family that may not all know each other, and that can sometimes make parties a little awkward in the beginning. There is nothing worse than going to celebrations whether it be a baby shower or birthday bash and having that weird awkward silence at the beginning when everyone is starting to mingle. That is why I love these fun printable ice breaker games so much!
Fun Printable Board Games: Whether it's game night with the family or helping the little ones learning their rhyming words these 17 Fun Printable Board Games are perfect for all gaming occasions. There is something so simple and fun about playing board games, and with printable board games, you can customize the fun!
Free Printable Mystery Games: A mystery party just wouldn't be complete without a fun mystery to solve! From murder, jazzy jeopardy, and even a teen drama these free printable mystery games and your party guests have to solve the mystery before they get to dig in. Today we're sharing some free mystery party printables to help with your mystery party activities. This list is full of ideas for every age, let us know in the comments your favorite.
Holiday Inspired Printable Game Ideas
Halloween Printable Games: Halloween time can be full of sugary sweets and crazy costumes. From trick or treating to monster bashes, there is so much holiday fun to be had. One of our favorite ways to celebrate the spooky season is classroom parties and small group get-togethers. Every year I make sure to printable out a few fun games that are perfectly on theme for Halloween. Here are my favorite printable Halloween games.
Printable Thanksgiving Games: Hosting Thanksgiving this year? Want that perfect dream of everyone spending time together, and not just while stuffing your faces with stuffing? One of my favorite things to do during family gatherings is to play simple games that work for all ages. This year pull out these fun free printable Thanksgiving Games for Adults and the whole family. From quizzes to charades, you can have a great time all day. Let us know in the comments your favorite.
Printable Games for Kids
Word Games for Kids: Word games are among our family's favorites. They're fun and versatile. Different ages can play, to the best of their abilities. And they can be played pretty much anywhere, at home or on the go. I love using word games to learn sight words, spelling, and playing on a great theme! We have put together the perfect list of printable word games for kids. They are filled with colorful themes and creative learning fun. Find your favorite and play for hours.
Printable Memory Games: A memory matching game is also a wonderful way to teach children important game-playing skills. Skills such as turn-taking and how to be a gracious winner…and loser! Depending upon your choice of cards, memory matching games can also reinforce learning about a range of concepts such as color recognition, letter names or sounds, counting, number recognition, alongside improved vocabulary and even reading skills. These fun printable memory games are great for learning and play with kids of all ages.
Games for Special Occasions
The Best Games for Women's Ministry: One of my favorite days of the week is when I get together with my Women's Ministry group and we dive into a fun study. These women have been apart of my life for a long time and we also have such a great time together. One of our favorite ways to start out each bible study is by playing a fun game. It can be an ice breaker, card game or one of our favorite printable games. Check out these awesome printable games for women's ministry that are so fun to play and always easy to plan.
Sweet 16 Printable Games: Turning 16 is a BIG DEAL!! I mean that little taste of freedom is just the first to many fun beginnings of "growing up".  Celebrate the best way with super fun games that bring all the fun and some great memories! I love each of these sweet Printable Sweet 16 Party Games. From getting to know the birthday queen to taking the perfect selfie, each of these printable games packs the perfect punch of fun!
Bachelorette Game: Planning the perfect bachelorette party can be super stressful because there are so many things to think about. From where to host, what food, decorations, and activities, the list can seem endless. But girl, don't worry I have you covered on the best Printable Bachelorette Party Games that everyone will love!
Planning a Baby Shower or Gender Reveal?
Baby Shower Game Ideas: Showering a Mom-to-be can be SO FUN! I love everything about Baby Showers from the little bitty onesies to the fun diaper cakes, they are always guaranteed to be a fun time filled with love and laughter! To make your next baby shower extra special check out these Free Printable Baby Shower Games everyone will love!
Fun and Sweet Gender Reveal Games: Showering a Mom-to-be can be SO FUN! I love everything about babies from the little bitty fingers and that tiny button nose. One of my favorite pregnancy surprises is guessing the gender. It's such an exciting time. Planning a Gender Reveal party can be such a great way to kick off all the pregnancy fun and with these cute gender reveal printable games everyone can have fun guessing the gender.
Fun Printable Travel Game Ideas
Road Trip Game Ideas: We are smack dab in the middle of summer break, and though summer break means lots of family fun and adventure, it also means lots of hours in the car. Road trips, visits to theme parks, weekends at the beach or in the mountains – all of that fun is frequently accompanied by endless hours on the road. And with little ones that can me countless hours of boredom or "Are we there yet" on repeat. But don't worry with these super fun printable road trip games they will have endless amounts of fun!
Travel Games: Road trips are one of my favorite memories growing up. We all packed in the back of my Mom and Dad's car, bags in the back, snacks in hand, and excitement in the air. One of our favorite road trips was going to a family reunion across the United States. Let me tell ya, it was a LONG car ride! I honestly don't know how my parents handled it for those few days. There was a lot of complaining between my siblings and me, but there were also SO MANY fun memories from that time together. Our favorite road trip game was the classic License Plate Game. You know, the one where you would yell out a license plate and punch your siblings arm maybe a little harder than you should have.
Family Reunion Game Ideas: One of my favorite memories growing up was attending our family reunions! There was something so fun and exciting about seeing family that you knew and loved but were also kinda like strangers. Every few years we would gather together and become reintroduced to our own family. Seeing cousins and getting spoiled by great grandparents was such a joy. We always have fun activities planned and AMAZING food to eat! Check out a few of our favorite printable family reunion games that will make your time just a little extra special.
More Great Game Ideas You'll Love
Minute to Win It Games for Kids – I love a good game night, obviously! But we have really been into Minute to Win it style game lately. They are fun quick-paced and usually provide LOTS of laughs! These games keep everyone on their toes, and no one gets bored! I usually love playing these games with a large group. They are all easy to play, pretty inexpensive to prep, and are SO much fun!
Best Math Board Games – Thousands of people across the world struggle with math. Learning with pencil and paper is no fun and the numbers just don't make sense. But one easy way to ease the struggle is to introduce them to educational math games. No longer is math boring and dull but full of excitement and strategy. Sharpen your skills and brain when you use a different approach to make your kids understand and fall in love with math.
Virtual Game Ideas – I love a good party and I love, love, LOVE a good game night – always! And we are not going to let this quarantine stop any of the fun!  The concept of the "Virtual Party" has been all the rage lately because it's a fun way to enjoy the company of friends while social distancing.

A virtual party is meant to be just like a traditional live party, but it is instead hosted on an online platform such as Zoom, Facebook Messenger, or the HouseParty app.  Virtual Parties can be for both kids and adults alike, although typically, the adult version of a virtual party is referred to as a "Virtual Happy Hour" because, well, just add alcohol.

We also love celebrating birthdays with some of these virtual birthday party games. The possibilities are endless.  As virtual get-togethers have become our new normal, it's easier than ever to find lively virtual party games that can transform a video call into a fun-filled celebration.