Inside: Printable Memory Games for Learning and Playing.
A memory matching game is also a wonderful way to teach children important game-playing skills. Skills such as turn-taking and how to be a gracious winner…and loser! Depending upon your choice of cards, memory matching games can also reinforce learning about a range of concepts such as color recognition, letter names or sounds, counting, number recognition, alongside improved vocabulary and even reading skills. These fun printable memory games are great for learning and play with kids of all ages.
How to Play Concentration or Memory Games

Shuffle the cards well and spread them face down across the table.
Players take turns to turn over two cards, searching for a matching pair. If the cards selected are a match, the player keeps the matching pair and takes another turn. If they are not the same, the cards are turned back over in the same location and play moves to the next player.
Once all cards have been matched, the player with the most pairs wins the game.
Printable Memory Games for Learning and Playing
Cupcake Memory Matching Game: A fabulous challenge for developing visual discrimination skills, great for kindergarten age children.
Snack Time Memory Game: Time for a snack! Children will enjoy spotting a few of their favorite snack foods in this food-themed memory matching game.
Match the Shapes: This game will let your child practice naming their shapes and building their memorization skills at the same time! They'll peek at each face-down card and try to memorize their locations, matching up all the pairs from memory.
Monster Shadows Matching Game: Another great challenge for visual discrimination skill development, match each of these cute monsters with their very individual shadow!
Opposites Memory Game: A fun way to revise learning about antonyms with preschool, kindergarten, and first-grade children.
Concentration Games for Kids
These printable memory games are perfect to help teach kids with concentration and memory.
Fruit Memory Matching Game: A fun tutti-fruity fruit memory matching game with both pictures and words. Free to print and easy to play.
Monster Memory Game: Match the monsters for a fun game with the kiddos.
Garden Matching Memory Game Cards: Play with pictures or pictures and words – great for Earth Day, Spring, growth or gardening learning themes.
Alphabet Memory Matching Game: Choose from 5 fun game suggestions to get your preschooler or kindergartener playing with beginning letter sounds.
Fun Printable Memory Games
Printable Feelings & Emotions Cards: Concentration/Memory is just one of eight-game suggestions included with these printable emotions cards.
Emoji Emotions Matching Cards: Inspired by the super popular emoji craze, these emotions cards are great for inviting discussion about big emotions with young children.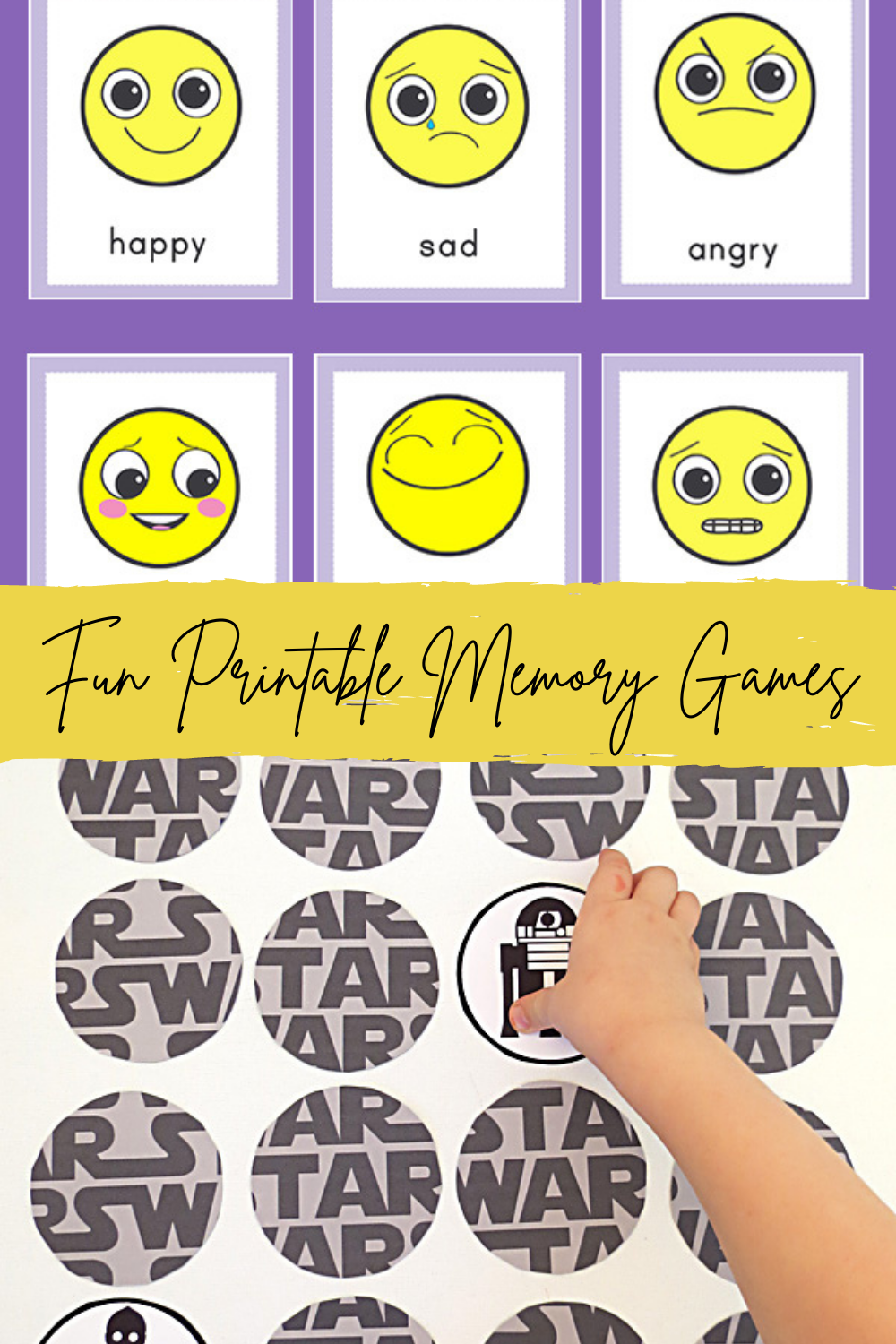 Yoga Poses Matching Game: For Concentration with a physical challenge, print two copies of our yoga poses cards for your game. Every time a player matches a pair they can perform the body shape challenge shown on the cards they have matched.
Star Wars Memory Game: May the Force be with you as you attempt to outplay your opponent with these cool Star Wars character game cards.
More Game Ideas You'll Love
Ping Pong Minute to Win It Games – There are so many different ideas when it comes to Minute to Win It Games, from toilet paper races to cookie face challenges. When planning the supplies list can become overwhelming quickly, since each challenge requires new items.
Target Party Games – Oh Target, it's no wonder it's one of the happiest places on Earth. I mean from the decor, clothes, and games they truly have it all! When I am planning a party with my family or friends, Target is the first stop on my list! I can get everything I need to have one heck of a bash. One of my most favorite party items is their HUGE selection of games. They have everything from board games, card games, kids games, and more! Here is a list of my favorite target party games for your next celebration.
Totally Fun Games to Play at the Park – I don't know about you but spring and summer are my FAVORITE times of the year. They are filled with backyard barbecues, long days by the pool and spending the day playing with the kiddos! One of our favorite things to do is pack up some of our favorite sandwiches and snacks and heading to the park to play some of our favorite fun games! Here is a list of our all-time favorite fun games to play at the park!