Inside: Viral minute to win it games for adults.
So…you are throwing a party and are looking for some activities to enjoy with your guests. Well, look no further than minute to win it games for adults. I am the biggest advocate for this style of game when it comes to finding party activities. They are simple, affordable, hilarious, and so much fun. You literally cannot go wrong.
So today, I have compiled some of the newest and funniest minute to win it games for adults in 2023. These games have been popular in the past year and have either gone viral or are just becoming more well-known among the party circuit.
So if you are interested in these, you have to keep reading. Honestly, I am just going to have to come up with something to throw a party about because these games make me want to host a get-together ASAP. I hope they inspire you as much as they did me. But before we get into the ideas… I suppose I should go over what exactly a minute to win the game is.
What is a Minute to Win it Game?
A minute to win it the game is basically exactly what the name suggests. It's a timed challenge game where the players have one minute to try and successfully complete a challenge. This can be things like trying to scoop cotton balls off the floor blindfolded (yes, that old game that we have been playing at baby showers for over a decade now is a minute to win it game!).
The games don't actually have to be under one minute, but most of them have a time limit around that amount. These games typically have a very simple concept behind them, so they are really easy to understand.
I have hosted my share of parties throughout my life, and I can tell you from experience how little I favor party games that take a lot of explaining. They end up being confusing and in the end, way less fun. That is the opposite of the goal when it comes to party games, so I say scrap those in favor of any shorter party game like junk in the trunk (an all time favorite!) or any of the ones listed below.
Take a look and I'm sure you'll find your favorites as well.
Simple Minute To Win It Games for Adults
These are great places to start. The games below are super simple and doable for any adult, no matter how intoxicated you are. Because let's face it, if you are having a party meant for adults, booze will be involved. That's another reason why minute to win it games are so awesome; even drinking, you can figure it out and have fun!
2. Flip Cup Tic Tac Toe – This one combines the classic games of tic tac toe and flip cup to make an epic party game that everyone will love.
3. Plinko Challenge with Pepsi Cans
5. What's In the Box Game – This one is super funny. You fill a cardboard box with something, and the player has to blindly feel it to try and guess what it is. The best part is that the thing is visible to the people who are watching.
7. Balloon Race
8. Try Not To Laugh Slap Challenge – This can be one of the most challenging games on this list. Is it just me, or is it so much harder to not laugh when you know you aren't supposed to?
9. Red Solo Cup Obstacle Course
10. Ping Pong Pond Hop Challenge
11. Fruit by the Foot Challenge – For this one, you will need fruit by the foot and an empty stomach. The person with the strongest jaw and mouth movement will be victorious. May the best eater win!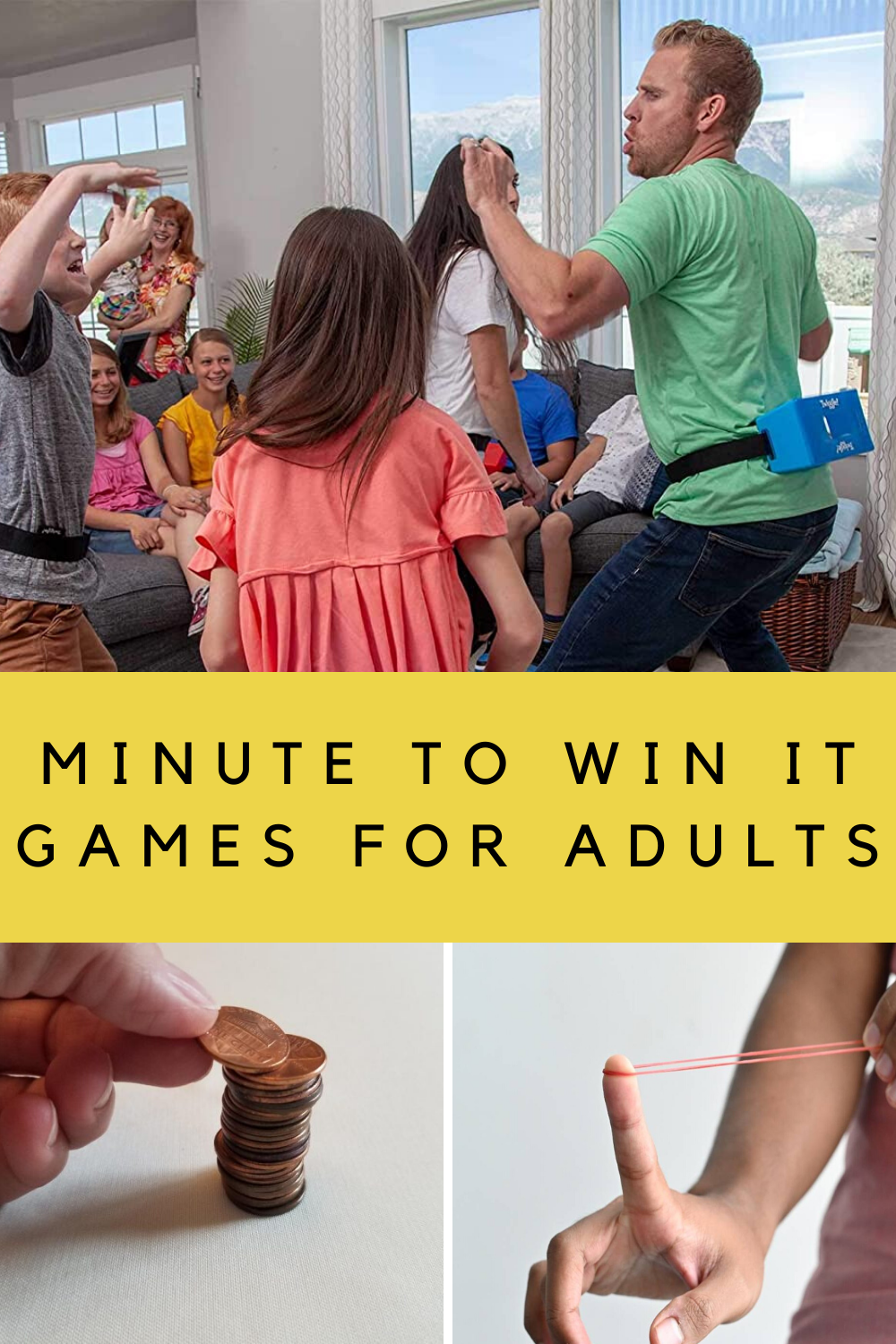 Funniest Minute To Win It Games for Adults
Okay, these are some of the most hilarious minute-to-win-it games for adults that I could find. I think a good rule of thumb when looking for party games is to find the ones that will cause the most laughter. This way, you know they will be a smash hit, even for the people who don't want to play. Many of these games are enjoyable even for the people watching.
13. Christmas Tree Slide: Girls Vs Boys – This one makes you use crazy hand-eye coordination. Knowing your strength is the key to winning.
14. Toilet Paper Pull Challenge
15. Ping Pong Chopper Challenge – This one is super funny. So you drop a ping pong ball from a specific height, and then you have to put your hand under it every time it goes up in a chopping motion. See how many times you can go under it without getting hit.
16. Post It Note Slap Challenge
19. Balloon Popper Race – This one will be loud, so apologize to the neighbors in advance. Not only is it super fun, but it's good cardio as well. Don't you think?
20. Blindfold Donut Eating Race
21. Oreo Face Cookie Challenge
Keep It Up: Tell players or teams they must keep a balloon afloat for one minute. Additional rules are up to you: tell them they can use only their heads, toes, etc. or just say "anything goes." If the balloon touches the ground, they're out. The last person or team standing wins.
Shoe Flick: Get players to take their heel out of their shoe and attempt to flick it onto a table six to 10 feet away using only their feet/legs. If they can get one, have them try to get the other. If their shoe overshoots or falls off the table, they have to start over.
Friends and Fun Game Night
Looking for some fun on your next adult game night? These Minute to Win It games for adults are full of fun and many laughs, and maybe a little friendly competition!
Bobble Head: Attach a pedometer or other fitness tracker to the head of each participant and have them move their heads back and forth quickly to achieve as many "steps" as possible before the timer runs out.
These games are the ones that have been most popular in the past year. The internet really knows what is up in terms of party games, so I always try to keep up on the latest. As fun as the classics are, like charades or monopoly, I think these games have them beat by a long shot.
23. Candle Blow Race
24. Paper Towel Roll Game – Everyone has extra paper towel rolls around. This clip will show you a few different games that you can play with the. You know the rules, reduce, reuse, recycle!
25. Balloon Shot Cup Challenge
28. Classic Money Scoop Minute Game – This one is a classic, but it got popular again this last year. You have a bunch of money on the ground and then you get blindfolded and have one minute to try and scoop up as much as you possibly can. Whatever you catch, you keep.
31. Poop the Potato – Even the name on this one is hilarious. Don't you agree?
33. Stocking Head Wrecking Ball
I hope you loved these awesome minute to win it games for adults. I have said it before, and I will say it again, minute games are the best games! Seriously. I refuse to get off of my soapbox here. The instructions are simple, the fun is great, and everyone has a good time.
You cannot convince me that there is a better game for a party. Sorry, not sorry.
If you share this view of minute to win it games, then I am guessing that you are going to love looking at even more awesome minute to win it ideas. There are just so many; the fun never has to end. Isn't that great?
Okay, I get that my love for this genre of game can feel a little intense, but you have to understand… I literally write about games for a living. OF COURSE, I LOVE THEM. Either that or my coffee finally kicked in. 😉