Inside: Awesome Harlem Nights theme party ideas that will leave you wanting to watch the movie.
Harlem Nights is one of my all-time favorite movies. It's got everything; comedy, mystery, drama…you name it and this movie has got it. So naturally, a movie like this has gained a cult following over the years.
The movie came out in 1989, which may feel like yesterday but in reality, was over 20 years ago! And yet the fans have never died out, their love for this film just goes on and on.
The style of the movie, the themes, and the costumes make for such a great party theme.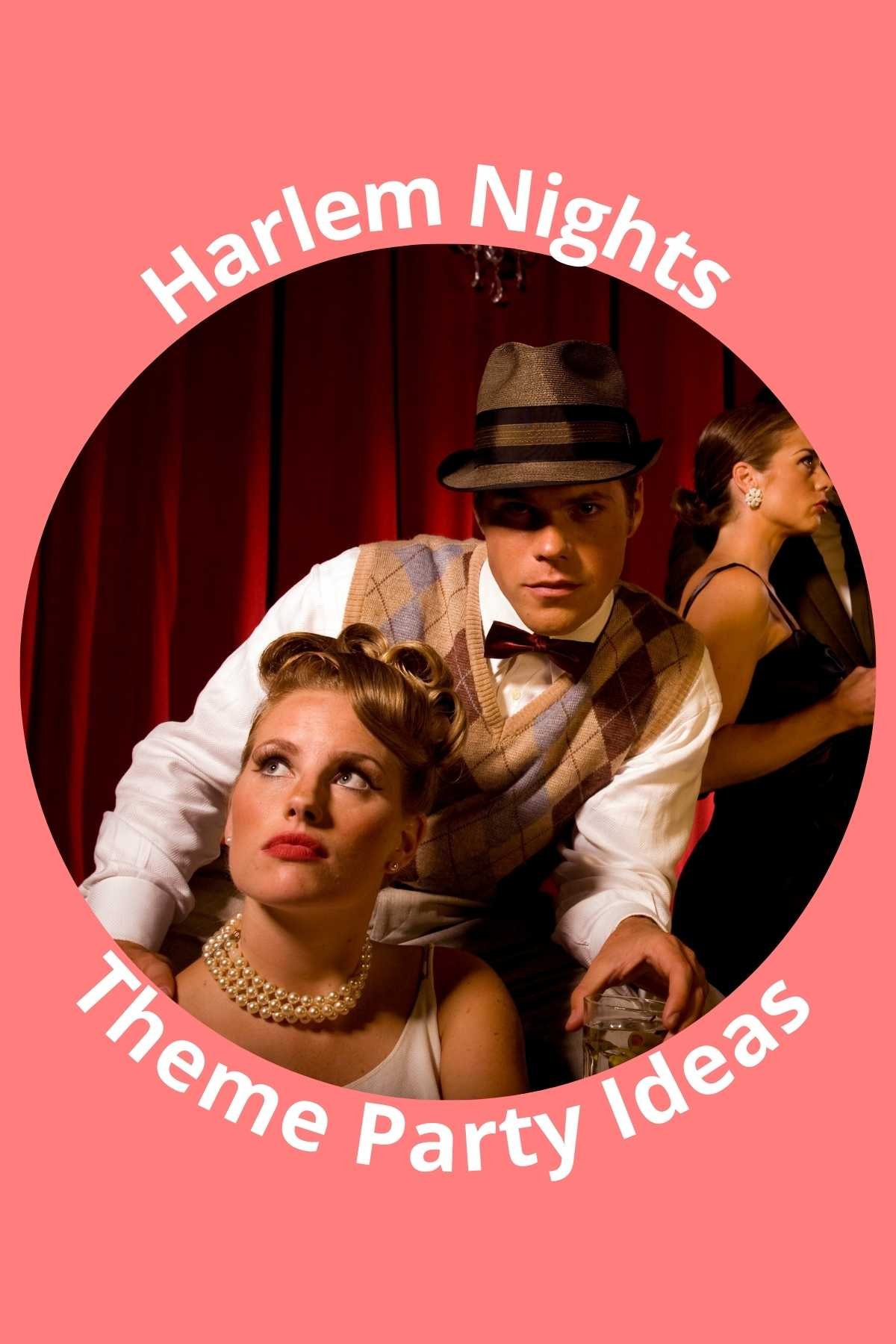 Harlem in the early 1900s had its ups and downs, but its style was never something you could bash on. It has that nostalgic and romantic feel that the roaring 20s had going for it.
Picture the Great Gatsby but make it more hustler. They really make use of reds, golds, and everything high fashion and elegant.
If you are thinking about throwing a Harlem Night-themed party and are in search of ideas, then continue reading. I have compiled a list of some of the coolest Harlem Night Theme party ideas that will get your creative juices flowing.
My hope is that by the end of this, you will have everything you need to host a bash to remember.
Harlem Night Themed Ideas
1. Red Carpet with Gold Drapes – This elegant red carpet with gold drapes combo is an iconic Harlem nights decor theme. The use of vibrant bold colors is a must when planning for this party.
2. Black And Red Back Drop – The color black is also an important one when decorating for this party. Black and red are often used side by side, creating this awesome combination that makes you feel like you yourself could be back in Harlem in the early 1900s.
3. Fedora with Cards and Cigars – This can be a table decoration or just a fun touch, but it can really bring the whole thing up a notch. After all, it's the small things that come together in the end to make the biggest difference.
4. Gold Cake Topper– By adding a gold cake topper, even your cake will be on theme. And an on-theme cake is basically mandatory.
5. Glittery Table Set Up – Believe it or not, glittery tables are such an awesome way to add some sparkle and shine to this party. There are so many different shiny aspects to the decor back then, that this fits right in.
6. Martini Clear Candle – This candle idea is a fun way to add some non-conventional decorations to your party. Aren't they a trip? They use Gel candle wax to get this clear look.
8. Vintage Record Player – It doesn't have to work, but it is a super great prop to transport the room back in time. It's the power of decorations.
9. Photo Props – Photo taking is half the fun of parties these days. So props are a definite must-have.
11. Party Props
12. Cute Fedora Center – Fedoras were truly the style of this decade. We rarely see them these days but they really do make for some great props.
13. Hanging Records
16. Red Lights – Red lighting will set the atmosphere in a way that regular lighting could only dream of. Check out this example.
17. Hat Table – How cute is this hat table? Having one on hand for those guests who may not have one is a nice touch.
Harlem Nights Decor
18. Elegant Center Pieces – Centerpieces can bring a table from drab to fab, with very little effort. So I made sure to add quite a few to the decor section.
19. Casino Center Pieces – Casinos were a big thing back then. So much so that the casino theme is basically all over this style and this party!
20. Dice Decor – Dice is such a cool touch because they may be small, but they exemplify everything the movie conveyed. They are a must-have when decorating let me tell you!
21. Harlem Nights Cake – I've said it before and I will say it again, a themed cake is one of the best things you can do for a party. They can pull the whole thing together, just by existing.
22. Harlem Night Themed Back Drop – This backdrop is great for any photo opts that will take place during the party. Everyone knows that getting a photo for the gram is a must, and not having a picture-perfect place to do it is a party no-no.
23. Floor Length Dress – If you are going to deck out the room with this theme, you better be willing to deck out yourself as well. Take a look at this timeless elegant floor-length white dress. If that doesn't get you ready to play dress up I don't know what will.
24. Flapper Dress
25. Unique Table
27. Pearl Chair Backers – These pearl chair backers are such an awesome touch that makes the whole party feel so sophisticated.
28. Cute Placemats
29. Welcome Sign
Harlem Night Games
For the games, I suggest playing classic card games that you might find in a casino. It stays on the theme plus they are fun and simple. Most people know how to play Poker and Roulette.
I also think that Harlem Night Trivia games are an awesome idea too. For the other avid movie lovers out there who like to showcase their knowledge.
31. Poker
32. Roulette
33. Harlem Night Trivia
34. Harlem Night Movie Viewing
35. Blackjack
36. Texas Hold Em
37. Dance Party
38. Harlem Themed Charades
Harlem Night Foods
39. Cake Pops – Cake pops are a forever win for me. They taste great and you can decorate them for every occasion.
40. Cupcakes – I feel like cupcakes are slept on for adult parties. This way you don't have to deal with cutting and cleaning the plates. With cupcakes everyone can grab their own.
41. Cigar Pretzels – Chocolate-dipped pretzels have never looked so good.
43. Chocolate Covered Oreo Casino Chips – How real do these things look? These are such an awesome touch, if you decide to go this route I think you'll find that they are a great crowd pleaser.
45. Black and Gold Rock Candy – Rock candy get even cooler to me as I grow older. Look at these cute ones that you will be dying to include.
So, what did I tell ya? Now you have everything you could need to throw your own Harlem night's theme party. From the food to the outfits, you are covered. The best part about throwing a party is you get to make it your own. So if you thought of something you would want to include while reading this, please don't hesitate to make it happen.
There are also so many more card games that you can include to make the game portion feel even more on the theme. So don't think you are limited to what is on this list alone.
When a movie is so good that it withstands time in the ways that this one has, it deserves to be honored in many ways. Throwing a party just happens to be one of the most fun ones.