Inside: 53 Funny Prizes for Games.
Winning isn't everything, but it sure is something! Especially when there is a great prize at the end. I like to say I love playing games just for the fun, but my family would probably kindly disagree and say it's solely to win!
I must admit, I do love winning, maybe a little too much. 😉
But who wouldn't want to take down your rivals (family or not) to win a good prize? To be honest, there isn't a prize on this list that I wouldn't be willing to fight for.
Check out these totally fun and laughably funny prizes for games, big or small, they are winning worthy…
Funny Prizes for Game Night
2. Candles + Matches
5. Letterboard Sign
Game Prize Ideas for Kids
A few of our favorite kids' games include Minute to Win It Games for Kids and these Fun Board Games!
7. Lego Sets
10. Fun Book: We love That's What Dinosaurs Do – By Jory John
Fun Gift Prizes for Tweens + Teens
We pride ourselves on coming up with some pretty rad games that teens and tween will love too, and can you believe they aren't on a phone? Check out these Sweet 16 Party Games + these Party Games for Teenagers, promise they will be a hit!
12. Skin Products: This I Dew Care Cake My Day facemask is one of our favorites.
13. Phone Accessories: Headphones, Pop Sockets, Phone Case, or Aux Cords.
14. LED Light: Every teen loves LED lights right now.
15. Beanie
Fun Game Prizes for Adults
Adult game night anyone? BOYB, we got the games like Minute to Win It and these crazy Blitzed Drinking Games.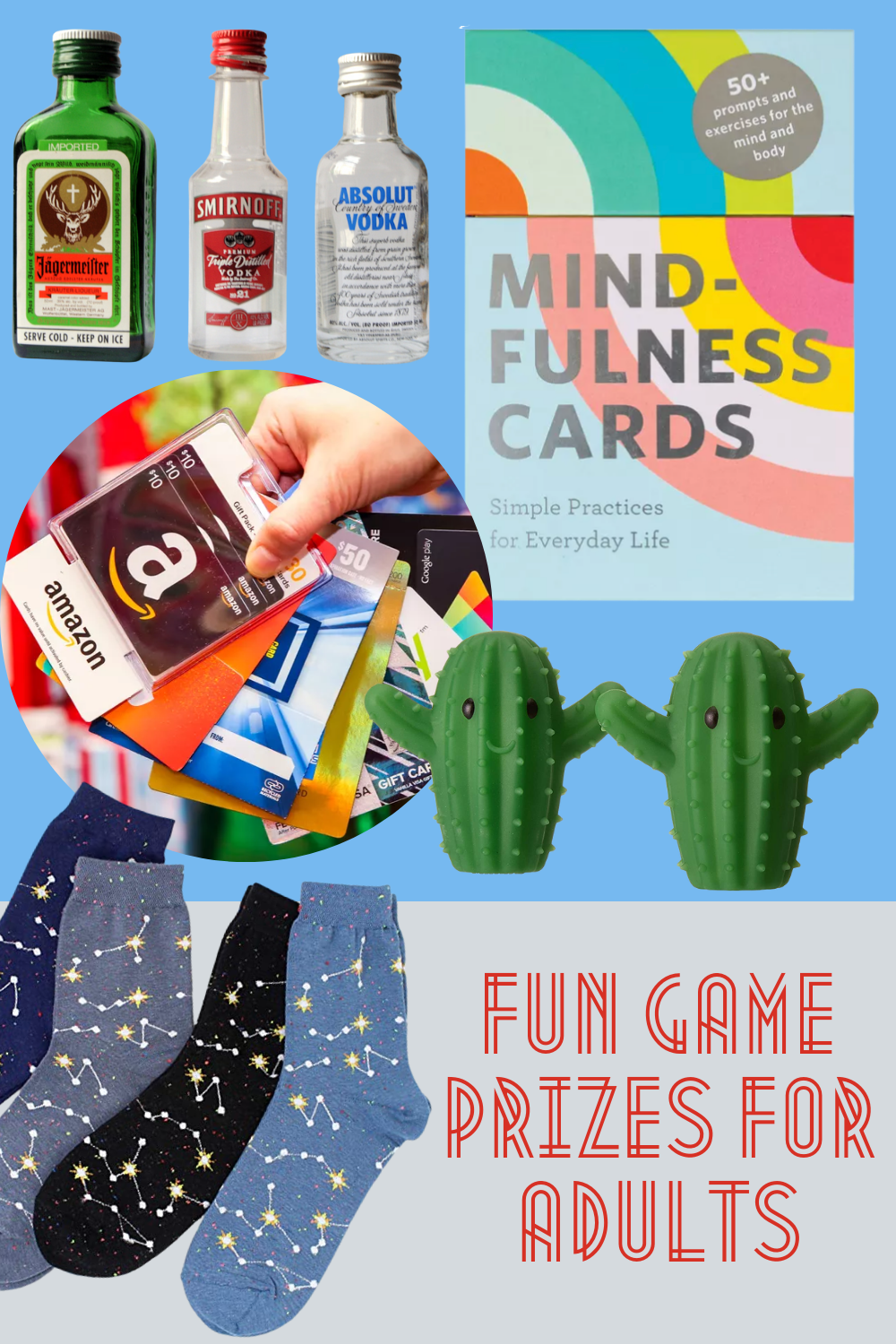 16. Gift Cards: Starbucks, Chick-fil-a, Gas, Ice Cream Store, any restaurant or fun place that people might like.
17. Mini Bottles of Liquor: Or big bottles 😉
18. Out of this World Constellation Socks
Simple Prizes for Parties
1. Scrunchies or Hair Accessories
3. Top 100 Movies Scratch Off Poster
4. Candy: Everyone loves candy!
5. Gift Cards: Again, who doesn't love free money?
Cheap Prize Ideas for Games
These cheap prize ideas are the classic game prizes that you pick up in bulk. They are perfect for quick game prizes for schools, church, or get-togethers.
1. Candy, Candy, Candy
2. Bouncy Balls
3. Stickers
4. Bracelets, Necklaces, or Rings
5. Pens, Pencils, or Earasers
6. Squishy Animals
7. Slime or Play-Doh
Funny Prizes for Christmas Games
Ho, Ho, Ho, let's play some festive games. Our favorites include this Saran Wrap Ball Game and Gift Exchange Dice Game.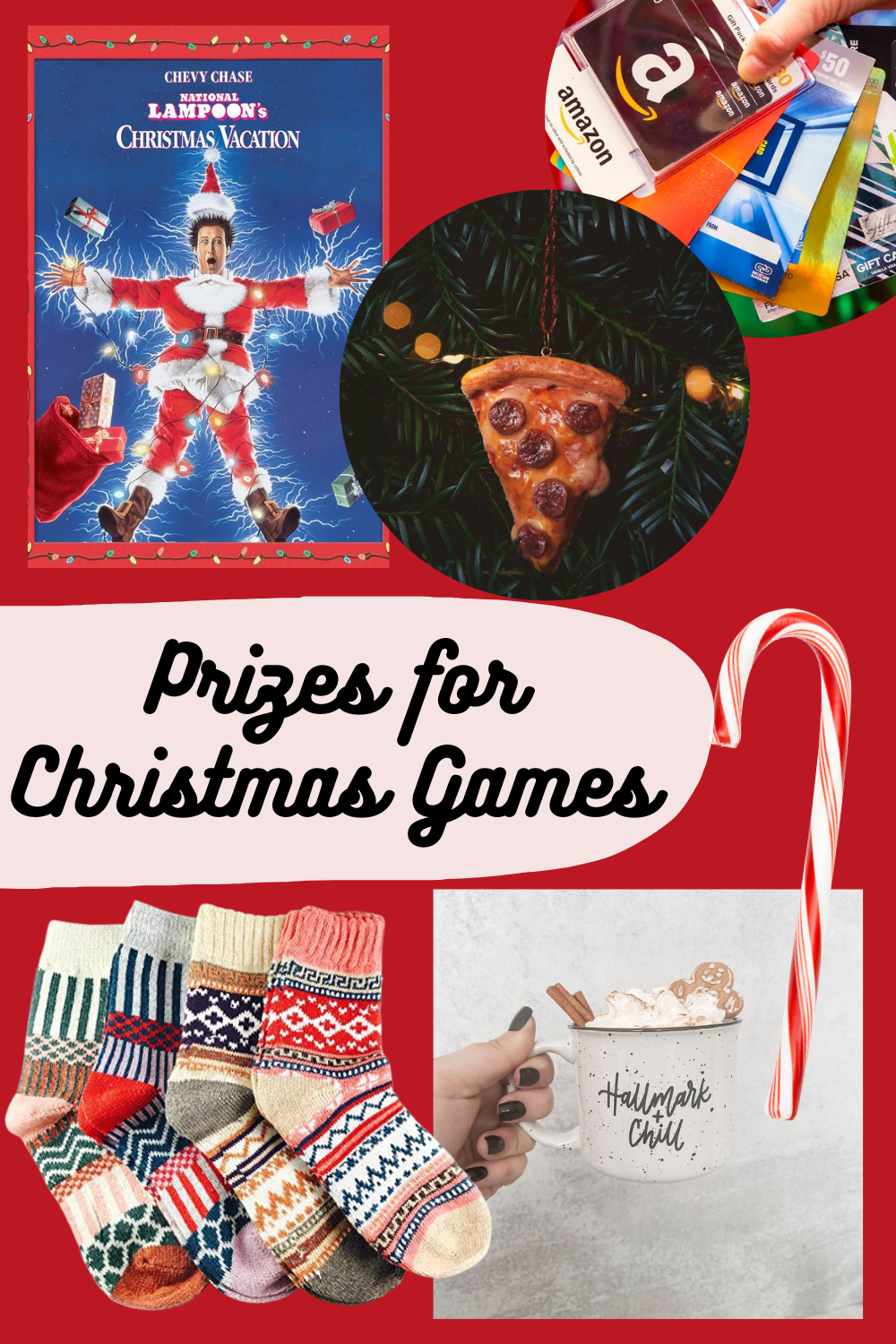 1. Warm Cozy Items: Cozy socks, blankets, or sweaters.
2. Christmas Candy
3. Gift Cards: You really can never go wrong with throwing in a few gift cards as prizes to any game. They can be as little as $5, everyone loves free money.
4. Festive Mug
5. Christmas Movies: Maybe paired with popcorn or candy.
Funny Prizes for Baby Shower Games
Baby showers are a blast! Especially with these fun games, Minute to Win It Baby Shower Games and Printable Baby Shower Games.
1. Big Baby Bottle full of Candy
2. Baby Bottle Pops: So FUN!
3. Wine: Mommy-to-Be might not be able to enjoy wine, but her guests sure can!
4. Poppin Bottle Bottle Opener
6. Gift Cards
7. Baby Animal Coffee Table Book: I mean all babies are cute!
Funny Prizes for Games at the Office
Who said office parties can't be fun? Our favorite way to spice up the party are these fun Minute to Win It Office Party Games.
3. Mugs: We love this Schitts Creek themed one!
5. Cute Pens
7. Desk Plant