Inside: 60th Birthday Party Games – Celebrate BIG!
Celebrate the big 6-0! There is nothing better than honoring another wonderful year with a party full of fun, laughs, and a good time. For this monumental birthday, celebrate in style with these 60th Birthday Party Games.
From totally on theme, to group celebrations, and fun adult board games this list is chalked full of a great time!
Plan the best 60th Birthday bash for dad, for mom, and all your friends. Let us know in the comments your favorite.
60th Birthday Party Game Ideas
The 60th Birthday Game: The 60th Birthday Game is a new game all about sixty. It is accompanied by a complimentary sheet of gift wrapping paper that is covered in the 60s – so it's easy for you to wrap this great little 60th birthday game into a 60th birthday gift that looks great! The questions cover a range of funny, intriguing, strange and awesome things about being sixty. This game makes a good novelty gift and also works well as a quick 60th birthday party game.
Here are the BEST Minute-to-Win-it Games for 60th birthday parties.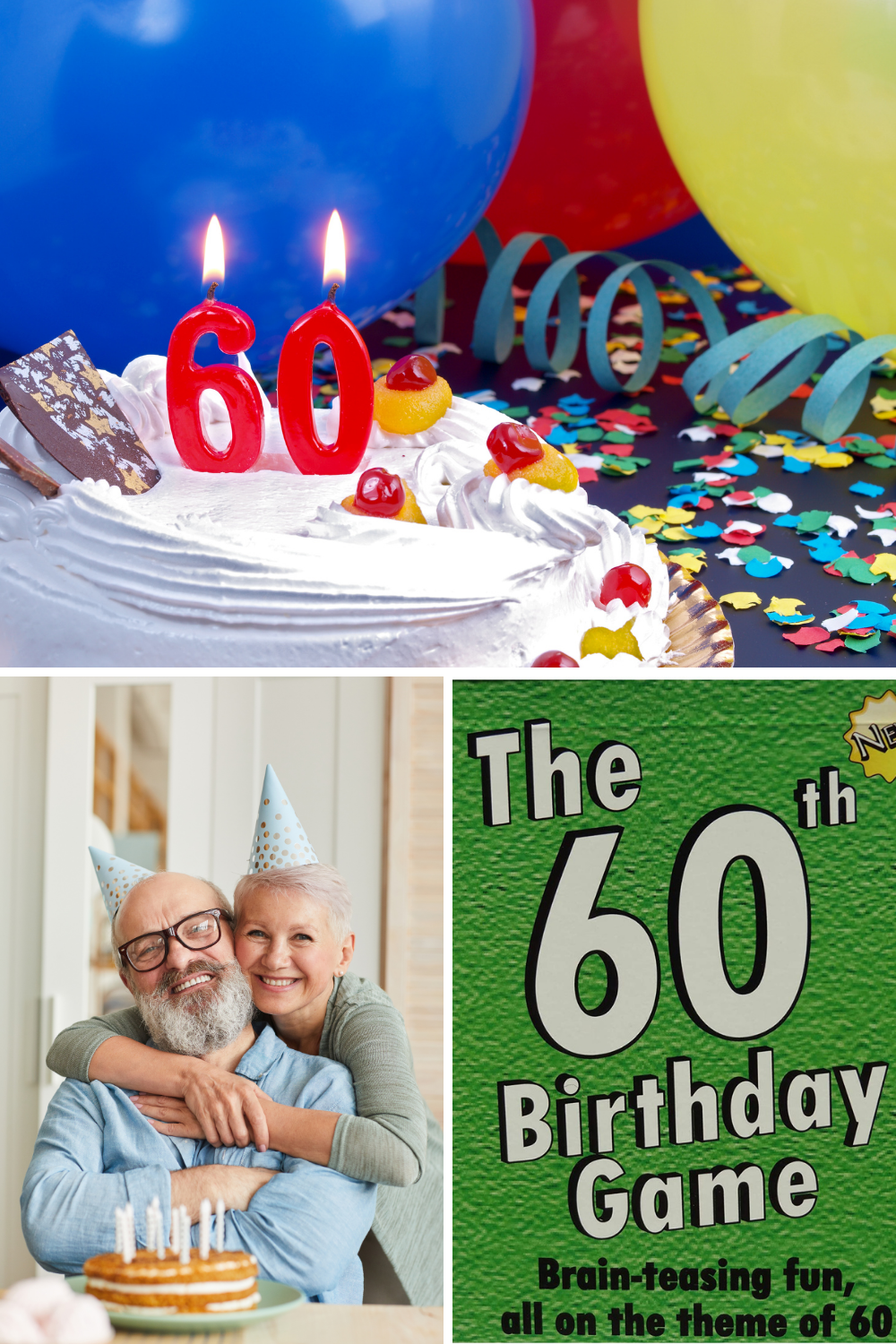 Over the Hill Party Games: To have an over-the-hill themed party, age is not the criteria and, of course, sixty isn't that late to enjoy. Ask the guest of honor to answer you a few questions beforehand, and then make the guests compete with each other to see who can answer most of the questions. Questions related to aging, for example, the time when the honoree noticed their first grey hair, or how much did a can of soda cost to them, when they were a child. After the game, the winners can be rewarded with awesome prizes like wrinkle cream, fake teeth, reading glasses, etc.
Timeline Madness: Try finding out photos or pictures from all stages of the honoree's life. Now, hang up a long clothesline across the room and start challenging the guests present to move around making an attempt to arrange all the pictures in a chronological manner. Give away prizes to the contestants who win or come the closest. Include some funny or embarrassing photos, for extra laughs. This is one of my favorite free 60th birthday party game activities.
Host a Murder Mystery Party: Here are all the ideas you'll need.
Fun 60th Birthday Party Game Ideas
These fun 60th birthday party game activities are so much fun.
Not SO Newlywed Game: The Not So Newlywed Game is the perfect way to entertain your friends at your next couples event. It can also be played at wedding showers and engagement parties.
Set up a Dart Board: Find the best DIY dart board instructions and get ready to have fun.
Never Have I Ever: The classic game of Never Have I Ever had to be included in this list of party games for adults. With 400+ questions, there are some fresh ideas here that your guests won't be expecting. Besides the huge number of questions, there's also a drinking game variation, penalty variation, and a non-alcoholic variation.
Casino Party: 111 Ideas for hosting a winning casino party that every party celebrating turning 60 will love to take a gamble with.
Murder Mystery Games: Murder Mystery games aren't just for Halloween; they can be played at any time of the year. A single murder mystery game is all you need to have a whole evening of fun with your friends.
The Bowl Game: This is the most hilarious party game, no matter the age of the group. Being one of my go-to party games, it is a celebration must.
17 Boozed Up Drinking Games: To get everyone in the mood for the BIG 6-0 party!
Birthday Party Board Games for the Big Bash
These board games are the perfect 60th birthday party games.
Bad Choices: This hilarious amazon board game, Bad Choices is the naughty love child of 'Never Have I Ever' and 'UNO'. This is the adult party game for finding out hilarious truths, secrets, and stories about your friends!
Loaded Questions: The hilarious adult party version of the classic 'who said what' game. This amazon board game Features 308 new and classic Adult Loaded Questions, all-new design, and added gameplay features/components for a laughter-filled Game Night!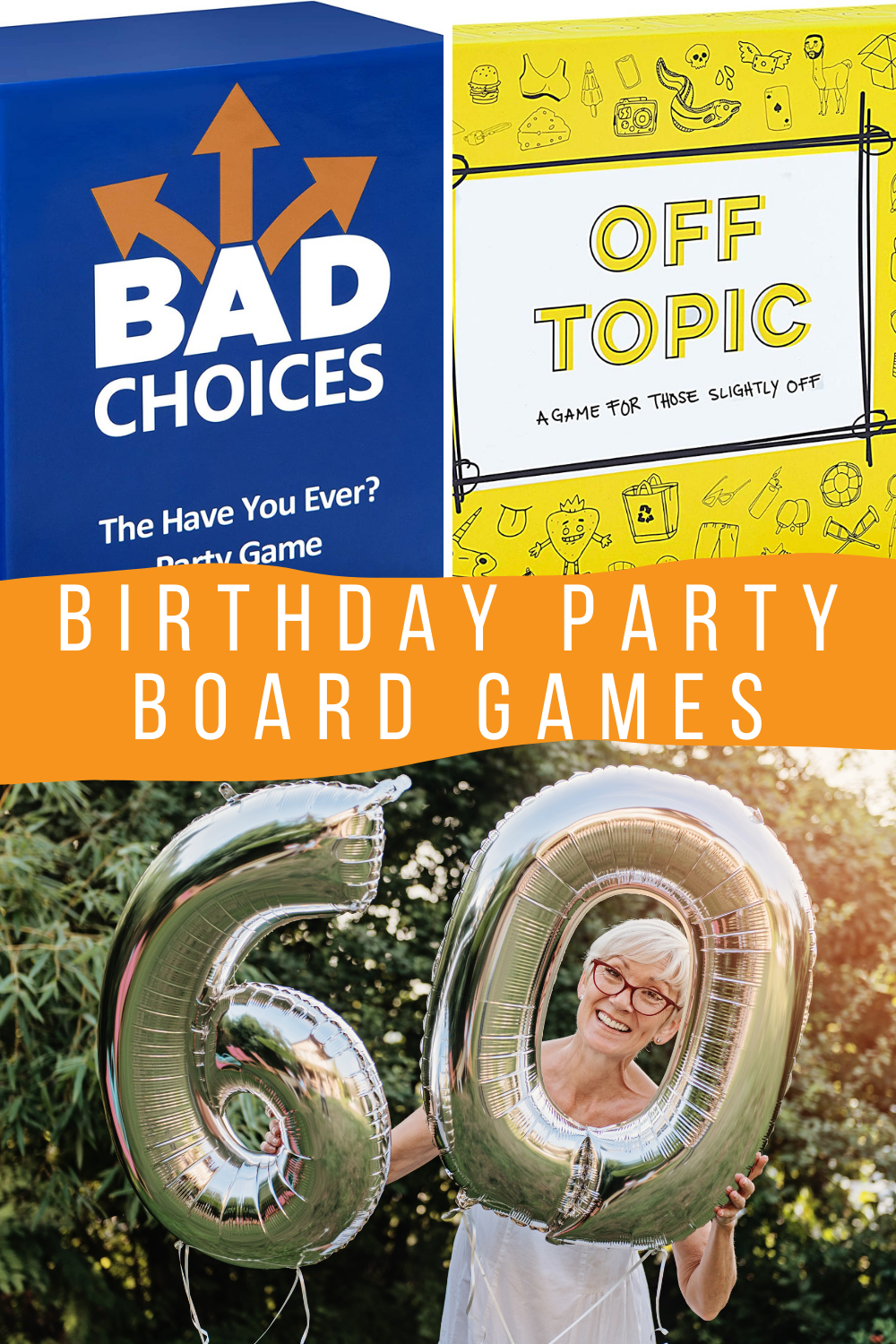 Catch Phrase Uncensored: Just like the classic Catch Phrase game but with an adult twist!
Off-Topic: This fast-paced fun game Off Topic is a fun board game that gets your brain juices flowing and stirs up some hilarious conversations during friends and family game night. Play is pretty simple, draw a card to set the topics, and roll the die to set the letter that your responses must begin with. Flip the sand timer and you're off! Race against time to write down answers for each topic that begin with the letter rolled.
More Great Party Game Ideas
Best Amazon Board Games – Ditch the TV and let the games begin! We love a good game night, whether its a game night with the kids, our adult friends, or as a family this list of 25 Best Amazon Board Games make for one FUN game night full of laughs and fun.
Fun Party Games Everyone Will Love – The family that plays together stays together. Whether your planning a fun family game night or preparing for a huge house party, each of these games are perfect for your next celebration. Most all of these games require no supplies, or very little prepping!

Which in my opinion are the best types of games! These fun party games are full of laughs and SO. MUCH. FUN.

Ice Breaker Games for Parties – I love a good party, nothing is better than good food, fun music, and great people. But there is always that little bit of an awkward time when everyone is just arriving and the party has quite kicked off! Don't let those awkward silences or uncomfortable first meetings ruin your good time. Here are 43 of the most hilarious ice breaker games for parties!