Inside: Top super bowl bingo cards to play during commercial watching fun.
This year's Super Bowl is going to be special, I can feel it. This game is already highly anticipated, but there are certain things you can do to make this even more fun for everyone involved.
I know what you are thinking…but how? It's already such a high-energy thing to watch! Well…let me introduce you to the wonderful world of Commercial games. Specifically, commercial bingo.
Everyone knows the commercials that play during the super bowl are extra special. They're overall funnier, more creative, and are a must-see! Many people watch the super bowl just for the commercials(I know all you football fans gasped). So this year, why not add some fun into the off time of the game by playing Super Bowl Bingo? I have lots of printable cards below.
But first, let's go over how to play!
How to play super bowl bingo
Super bowl bingo is actually much simpler than it sounds. If you have played regular bingo before then you basically have it covered, but I will go over the rules and how tos for those of you who need a refresher course.
Everyone is given a themed bingo card that has the names of the possible commercial companies that will be played during the intermissions of the game. Each of these cards are different, so everyone has an equal chance at winning.
If you want to take this up a notch, there are some blank bingo card options below that you can use to make your own guesses as to what companies will be shown. Every time you get one right you put a sticker or a mark over the company that you got right. The first person to get a whole row wins. Classic bingo rules!
You can have an extra prize prepared for the winner to make this extra fun. I honestly love the super bowl, even though I only just learned to understand the game. For me it's all about the energy, the good food, and the fun. So let's look at these cards!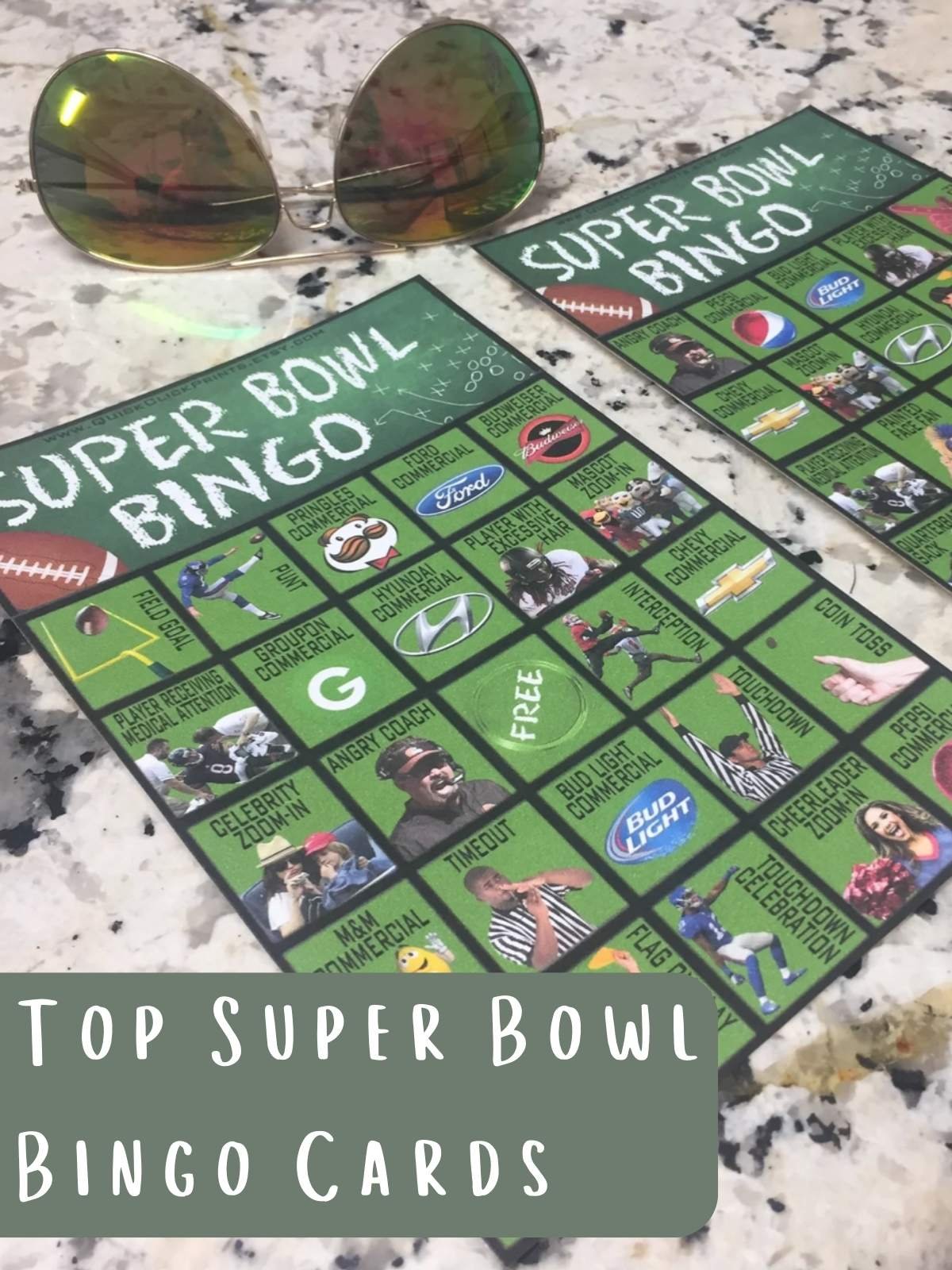 Top Super Bowl Bingo Cards
I actually got to play super bowl bingo last year, and I loved it. I may be biassed because I was the winner and I got to take home a little goodie basket, but I digress. I am now making it a tradition, so this year at my super bowl party, I will be including one of these printables from the list below!
1. Cute Logo Emblem Bingo – I feel like the cuteness of the paper really does make a difference. So I started off with this beauty to show you what is in store on this list.
2. Football Game Set – This is a whole set of games that you can play during your game. This is technically for last year, but if you click on this business around the time the teams are announced, they will have it updated.
3. Set of 20 Bingo Cards – You will need quite a few bingo cards, and it is always good to have extras. So this is for if you are planning on having a very small gathering.
4. Simple 5-Dollar Bingo Sheets – I don't think you can get a better game for under 5 dollars(accept on the list below), so check this out and see if you like it.
5. Ultimate Super Bowl Card – I love this one. Same thing goes for anything on this list that is for last year's teams. They will have an update right around the time of the game.
6. Bingo Sheet with 64 Items – I think the best thing about this set is the sheer amount of sheets it comes with. How perfect is this? You just download it and print it out. It will take less than 15 minutes!
7. Commercial Bingo – And here is a classic commercial bingo list that you can work with. I love this one! You are guaranteed a fun time when you play this game.
Affordable Bingo Sheets
Next up we have some more simple and affordable bingo sheets. On this list I made sure to include some customizable sheets that you can work with to make your own bets on the commercials. Theres even some other games on here that you can play during the game, so check them out.
8. Affordable Bingo Sheet – I don't think you have to spend a bunch of money to be able to get a good quality super bowl bingo game. In fact, I feel the opposite. That is why I love Etsy so much, these small businesses are kicking out some of the cutest printable games for next to nothing.
9. Simple 60 Sheet Set – I love to keep my game days simple because I already have a lot going on in terms of food, set up, and the game itself. I know I will save so much time printing these out!
10. Super Bowl Commercials – I think this one is a great option. Check it out!
11. Different Brand Logos – I love when they use the logos instead of just the name. It makes it so much easier to spot during the game! Plus it looks super cute.
12. 56 Super Bowl Commercials – If you are throwing a pretty good sized party, this is a great option for you. There are 56 sheets in total for you to print. So if you mess a few up, you have them to spare.
13. Customizable Bingo Cards – Now here is the customizable cards I mentioned. These are the best if you want to make your own guesses as to who will be in the commercial line up.
14. Super Bowl Commercials Customizable – I wanted to give you a few options for your customizable bingo sheets. Just in case you like one more than the other. You know what I mean?
15. Cute Themed Super Bowl Game – I just had to include this one right before we were finished because it's one of my favorites. Simple, but decorated in a cool way. I just love it.
16. Blank Bingo Sheet – And here is a simple blank bingo sheet that you can use for just about anything, but especially this super bowl These are great because you don't have to wait for the players to be announced.
Super Bowl Bingo: Conclusion
So…what did you think? Are you going to add a super bowl bingo game to your big day? I am hoping so! Whoever ends up competing, this game will be one to remember. I think adding little things like this are such a great way to make this game extra fun for everyone involved. Even the kids!
I know how hard it can be to get the kids to stay interested during this very long and very complex game. I mean, once you understand it, it's not too bad. But for 8 year olds…it's the worst. These games will make the day fun for everyone!
If you loved this, then you have to check out some of our other super bowl game day ideas that will help to make your party one to remember. Not that you need an excuse to party, but this is a dang good one! Take a look.