Inside: The Best Halloween Party Games for Kids
Ghost, Candy, and Costumes, it's time to play! My favorite time of year is full of sugary sweets and crazy cute costumes and this year we have put together one fun list of Halloween party games for kids.
Whether your throwing a classroom party, spoiling the kids at home, or throwing a fun DIY monster bash these games are perfect for all the kids. So gather up the supplies and let's have ourselves one heck of a party.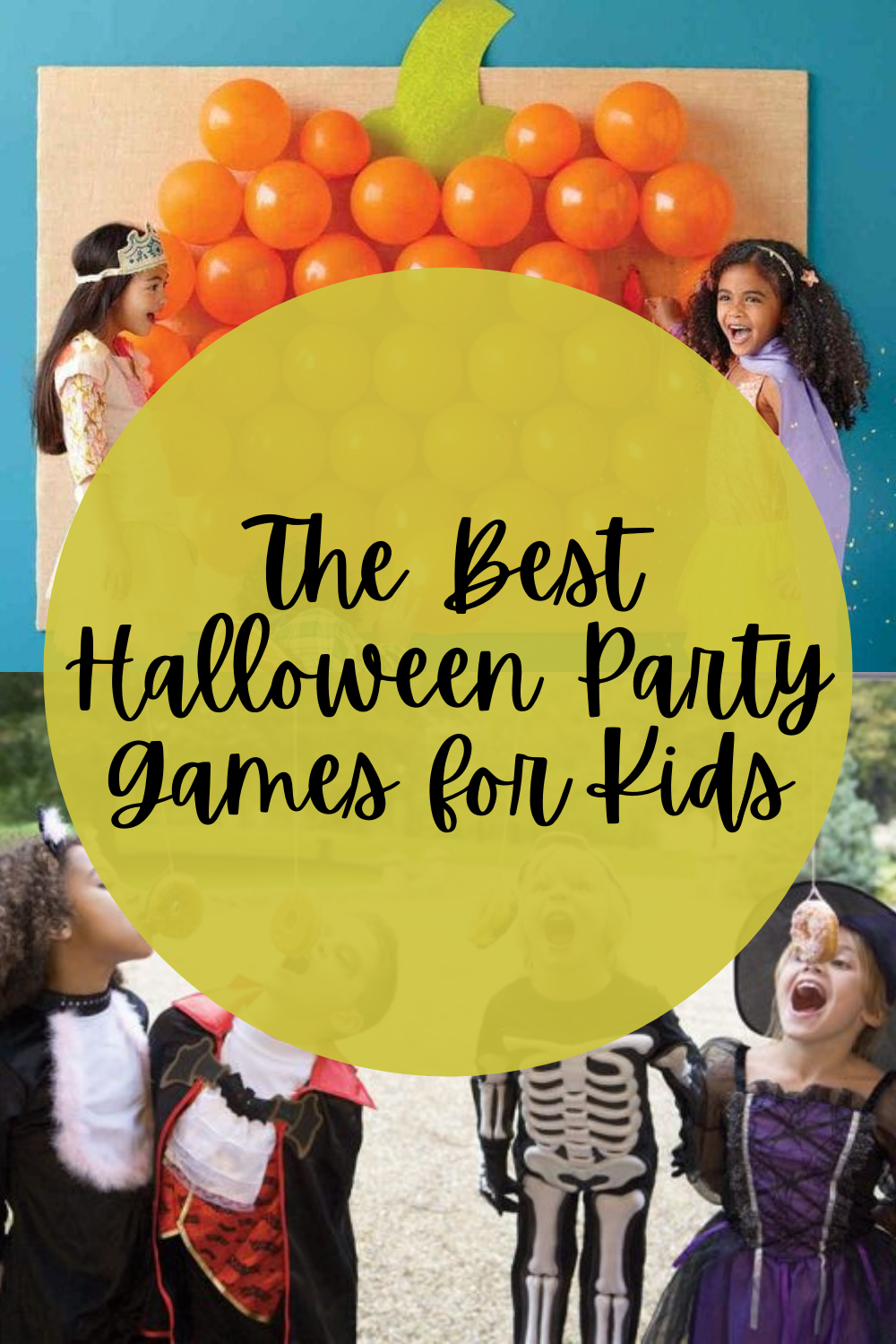 The Best Halloween Party Games for Kids
Donut Eating Race: If you've never participated in a donut eating race, you are missing out! It is a great game not only for Halloween parties but birthday parties too.  If you can get the adults to participate, your stomach will hurt from all the laughing, I promise!
Candy Corn Guessing Game: Fill a jar full of candy corn and let each kid guess how many are in the jar. The winner can take the jar home with them at the end of the night.
Witch Hat Ring Toss: You can make your own ring toss game or buy one that is so cute here.
DIY Halloween Party Games for Kids
Feed the Monster: This fun ball toss game will keep all the kids entertained!  (Plus it is super budget-friendly as it is basically made out of a box!)
Pop the Pumpkin Balloon: Just stuff the balloons with slips of paper that have prize names written on them to be claimed later.
Ghost Pumpkin Bowling: This DIY Halloween game is SO cute!
Classroom Halloween Party Games for Kids
Poke the Pumpkin: This looks like fun, similar to the balloon pop game!  Possibly even easier to put together, since instead of blowing up balloons, you're just wrapping orange tissue paper around a paper cup and securing with a rubber band.
Marshmallow Toss Game: Easy and fun- you can use mini marshmallows and paper cups or large marshmallows and some of those little tin buckets from the dollar store would be great too!
Pumpkin Patch Stomp: Any Halloween Party can be made so much better by popping a few balloons for prizes! Before blowing up the balloons, stuff with money slips of paper, or squish-proof candy
Halloween Bingo: Halloween Bingo is always a hit, I especially love this for classroom Halloween parties or playdates. You can find tons of free printable Halloween Bingo cards online.
Budget-Friendly or Free Halloween Party Games for Kids
Toilet Paper Mummy: This toilet paper game is budget-friendly (who doesn't have toilet paper) and loads of fun, it's sure to have everyone laughing like crazy! The way the game works, is you pit several teams of 3 (one mummy, 2 wrappers) against each other, and the team that finishes wrapping their roll of toilet paper around the mummy first, wins!
Halloween Charades: Another great Halloween game idea? Charades with a Halloween theme!  So many laughs and so easy to play.  Grab the free Halloween Charades printable here.
Pumpkin Toss: Another budget-friendly DIY Halloween Game for your party. This one is especially great for toddlers. It's easy to put together as the pumpkins are just toilet paper wrapped in felt and you can get the baskets from your local craft or Dollar Store!
More Games That Kids Will Love
Best Walmart Board Games for Kids – Scrap the binge-watching Netflix nights and turn off the electronics, it's time to pull out a stack of the best board games and throw yourself one heck of game night! We love a good game night, whether its a game night with the kids, our adult friends, these very best Walmart Board Games make for game night.
Printable Word Games for Kids – Word games are among our family's favorites. They're fun and versatile. Different ages can play, to the best of their abilities. And they can be played pretty much anywhere, at home or on the go. I love using word games to learn sight words, spelling, and playing on a great theme! We have put together the perfect list of printable word games for kids. They are filled with colorful themes and creative learning fun. Find your favorite and play for hours.
Minute to Win It Game for Kids – These games keep everyone on their toes, and no one gets bored! Recently my kiddos had some friends over and I thought that would be the perfect time to pull of these fun Minute to Win It games for kids.