Inside: How to play Bible charades with ideas & the ultimate printable word list.
Cultivating a deep relationship with God can be done in many ways. I know that your mind may have instantly imagined studying the good book for hours on end or spending time in church. Both are ways to achieve this, sure. But they aren't the only way. This path is something completely unique to you, and it will look different for everyone.
So if you've been looking to find a way to add a little extra fun to your bible study sessions then you have come to the right place.
Today we are talking all about Bible charades!
Yes, you've heard me correctly. Bible charades are something we used to play in my Sunday school to help us incorporate the lessons that we've learned from the bible in a fun and playful way. I highly recommend this to anyone who hosts their own bible study, because it's so fun.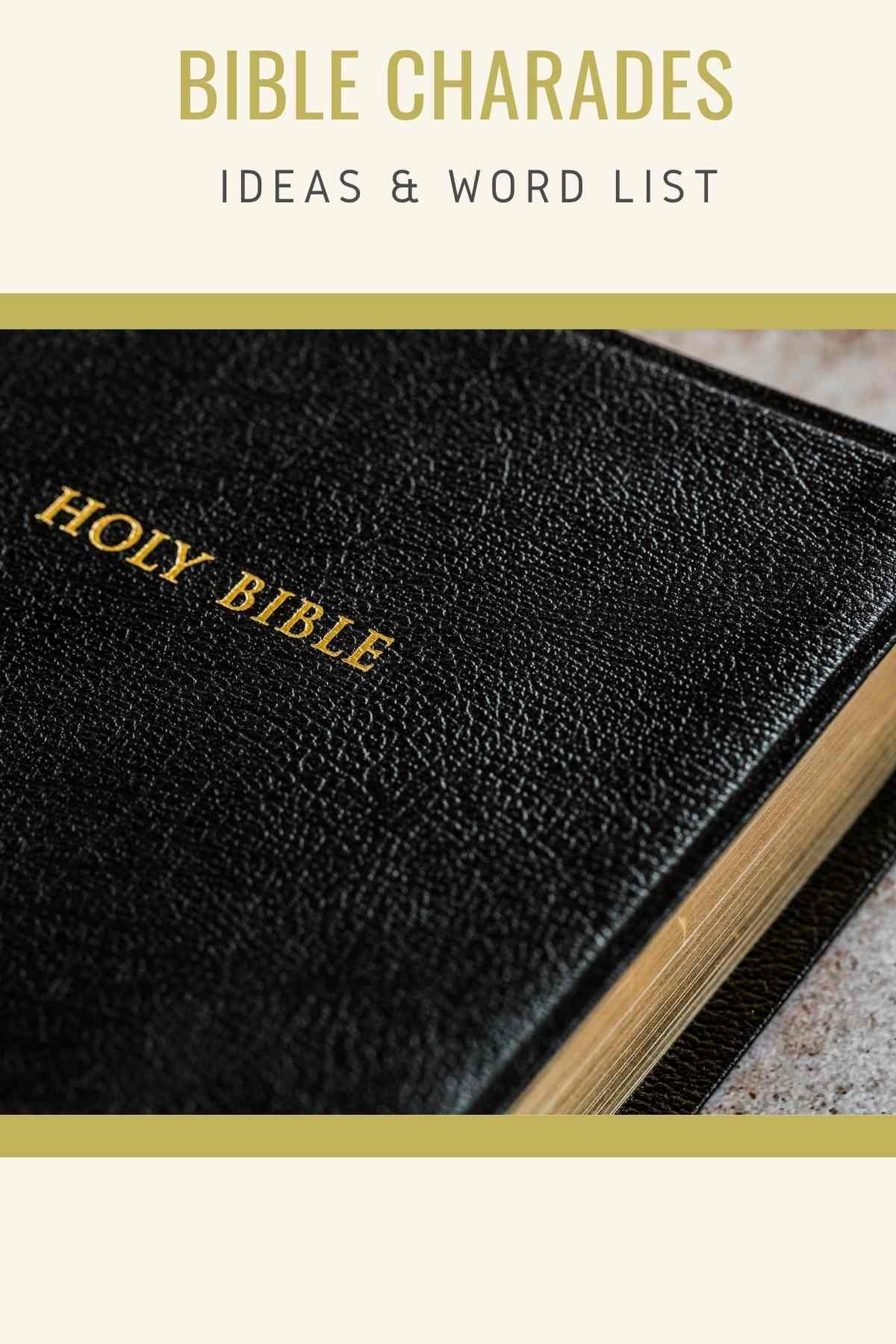 More than this, it helps you to retain the information you've read in a hands-on and fun environment. Studies show that people are more likely to remember what they are taught when they are engaged, and this is definitely an awesome way to get your minds ready to absorb in a way that doesn't feel like work but play.
To help you get started, I've compiled the master list of over 145 Bible charades ideas & Wordlist.
To save your hand muscles, I've also made sure to include printable pre-made cards at the bottom. If you are really trying to learn though, I recommend making your own.
It'll help you to remember not only for your own good but for the good of the team that you'll be playing with. Seeing as it will help you to get a jump start on miming ideas. Take a look!
People From The Bible Charades List
To start, I thought we'd keep it simple with people from the good book. This is a list of the most well-known figures to appear in the bible. It's a wonderful jumping-off point for the game before we get into full sentences.
1. Jesus Christ
2. Mother Mary
3. Noah's Ark
4. Judas
5. Adam & Eve
6. Abraham
7. Moses
8. David
9. Elijah
10. Isaiah
11. Peter
12. Paul
13. Cain & Abel
14. Isaac
15. Joseph
16. Solomon
17. Joel
18. Jebediah
19. Jonah
20. Job
21. Obidiah
22. Malachai
23. Samson
24. Solomon
25. Asa
26. Xerxes
27. Darius
28. Cyrus
29. Jeremiah
30. Zephaniah
31. Micah
32. Amos
33. Saul
34. Gideon
35. Joshua
Bible Themed Charades
This next list is slightly harder seeing as you'll have more words to use. But I know you got this in the bag! Here are some of the most well-known bible phrases and sayings.
Remember to not overthink, you know these, and so does your study group!
36. Praise the Lord
37. The joy of the lord is your grace
38. Garden Of Eden
39. Parting the Red Sea
40. John the Baptist
41. For God so loved the world
42. Honor Your Mother Your Father
43. The prodigal son
44. Holy Spirit
45. God Is good
46. Jesus Calms the Storm
47. You shall have no other god before me
48. Jordan River
49. Love One Another
50. Samson & Delilah
51. You Shall Not Murder
52. The Good Samaritan
53. Love is patient, Love is kind
54. Jesus' 12 Disciples
55. Jesus Rose From The Dead
56. The last supper
57. In your anger, do not sin
58. 5 Loaves and 2 Fish
59. The Lost Sheep
60. 10 Plagues of Egypt
Bible Verses
Bumping it up a notch, this section is full of bible verses. Extra points to the teams that can name what section each come out of.
61. I can do everything through him who gives me strength
62. I can do all things through Christ who strengthens me
63. Be still, and know that I am god
64. For we walk by faith, not by sight
65. For nothing is impossible with God
66. And with Christ, hope springs eternal.
67. Rejoice in the Lord always. Again I will say, rejoice!
68. My soul longs for your salvation; I hope in your word.
69. You did not choose me but I chose you.
70. Let all that you do be done in love.
71. Our faith can move mountains.
72. Let all that you do be done in love.
73. Draw near to God, and he will draw near to you.
74. Draw near to God, and he will draw near to you.
75. Jesus Wept.
76. Rejoice always
77. Pray without ceasing
78. For whoever calls on the name of the Lord shall be saved.
79. Your word is a lamp to my feet and a light for my path.
80. Be watchful, stand firm in the faith, act like men, and be strong.
81. The LORD is a refuge for the oppressed, a stronghold in times of trouble.
82. The LORD Almighty is with us; the God of Jacob is our fortress.
83. Very truly I tell you, the one who believes has eternal life.
84. A Psalm of David. The Lord is my shepherd; I shall not want.
85. Whenever I am afraid, I will trust in You.
86. They are new every morning; Great is Your faithfulness.
87. The apostles said to the Lord, "Increase our faith!"
88. So also faith by itself, if it does not have works, is dead.
89. He that loveth not knoweth not God; for God is love.
90. I love you, LORD; you are my strength.
91. He gives power to the weak and strength to the powerless.
92. And now, Lord, for what do I wait? My hope is in You.
93. Surely there is a future, And your hope will not be cut off.
94. Let love be genuine. Abhor what is evil; hold fast to what is good.
95. Through love we serve one another.
96. Husbands, love your wives and do not be harsh with them.
97. My son, if your heart is wise, then my heart will be glad indeed.
98. It is God who arms me with strength and keeps my way secure.
99. You are my friends if you do what I command.
100. Then he adds: "Their sins and lawless acts I will remember no more."
More Bible Charades Ideas
These are not exactly straight out of the bible, but they are phrases that you should be able to mime pretty easily. They're in more of a modern word style. I thought we'd finish it out a little easier.
101. God Creates All
102. Noah builds the ark
103. Noah saves the animals
104. Moses witnessed the bush burning
105. Flies Plague Egypt
106. Frogs Plague Egypt
107. Thou shall not kill
108. Balaam talks to the donkeys
109. The building walls are pulled down by Samson
110. Goliath is slain by David
111. The leper is healed
112. The tomb lays empty
113. Parable of the lost sheep
114. You should not speak evil
115. Jesus cleans his disciple's feet
116. Paul wrecks his ship
117. The shepherds pay a visit to baby Jesus
118. The virgin mary
119. Parable of the ten virgins
120. Joseph gets sold into Egypt
121. You cannot steal
122. Your parents deserve the honor
123. A large fish swallows Jonah
124. Daniel in the lion's den
125. The blind man can see
126. Stephen gets stoned
127. Judas betrays Jesus
128. The first commandment is to love god
129. The story of the widows might
130. I love the lord
131. God is good
132. Baptism
133. Frankincense & myrrh
134. Immaculate conception
135. Love is an expression of god
Printable Cards
As promised, here are some printable cards to save your hand muscles.
136. Free Bible Charades Cards
137. 100 Bible Cards
138. Charades with photos
140. Cute Charades Cards
142. Bible Verses for Children
143. Brown Charade Cards
144. Charades Cards Old & New Testament
145. 60 Bible Cards
Fun Additions
146. Have everyone come dressed like someone from the bible! This will help make things extra fun.
147. Have classic foods to eat, like food from the bible. Bread, and whatnot.
148. Set the scene with scent as well, perhaps by using incense with frankincense.
149. Have a brand new cool bible for whoever is the winning group.
What are you waiting for?! Print these out and let's get playing.
PS. Free printable bible study games & printable games for woman's ministry at church.