Inside: Printable Bible Games for Bible Study.
If you're looking for fun and meaningful Bible games for your next bible study, you've come to the right place. These games are great for parties, family get-togethers, church ministry meetings, small group gatherings, or any event.
We have found a super fun collection of printable bible games for adults, youth, and kids!
Put some fun in your next Bible study with our collection of free printable Bible games!
Fun Printable Bible Game Ideas
Bible Swaparroo: Interesting gameplay makes this a really fun card game! Players must try to match Mission Cards with the appropriate Game Cards. With each turn, you have to decide which cards to keep, swap, or pass to the next player. Use this game to help players become more familiar with the names and sections of the 66 books of the Bible.
Books of the Bible Word Scramble: Unscramble the words to find the books in the Bible. This is a great way for everyone to learn and recognize different books.
Bee-Attitudes: Perfect printable bible games for youth. You can treat it like a puzzle to talk over the BEE Attitudes as they glued on the correct button. It is also helpful to have this printable for teaching these Biblical truths
Bible Brainstorming: Perfect for any group gathering. These free Bible games challenge everyone to supply as many answers as possible before time runs out!
Where in the Bible: Where in the Bible is slightly different. In this Bible search game, teams race each another to find Bible verses that contain a given word. The team that finds the most verses wins.
Printable Bible Trivia Games
Bible Trivia: A unique Bible Trivia game where everyone is involved at the same time. As players take turns to answer questions, other players can also score points by correctly guessing whether the answer is right or wrong. Younger players and those less familiar with the Bible can score points and enjoy the game while learning about the Bible.
Missing Letters: 15 scriptures with a few (key) missing letters. Can you replace the correct letters AND supply the right reference for each passage? This especially suitable for a youth group gathering.
Bible Baseball: Batter Up! Test your group's knowledge for Bible Trivia in this fun game for any size group. We've included a printable Bible trivia list of 30 questions and answers for your convenience.
Bible Who am I: Players try to identify the Bible character they have been assigned by asking yes or no questions. Great for all ages and for both small and large groups. This game can also be used to introduce a lesson on our identity in Jesus Christ.
Printable Bible Bingo Games
Bingo: This Bible Bingo game is uniquely designed to help players become more familiar with the various books and sections of the Bible. Each Bible Bingo Card is divided into sections that correspond to the sections of the Bible.
New Testament Bible Bingo Game: Always fun for a group! I love using this printable bible bingo game for Children or Youth. It's a great way to start off a lesson and teach kids more about the New Testament.
Days of Creation Bible Bingo Game: With six different game boards this set is print-ready and the perfect addition to your Creation Week lesson plans.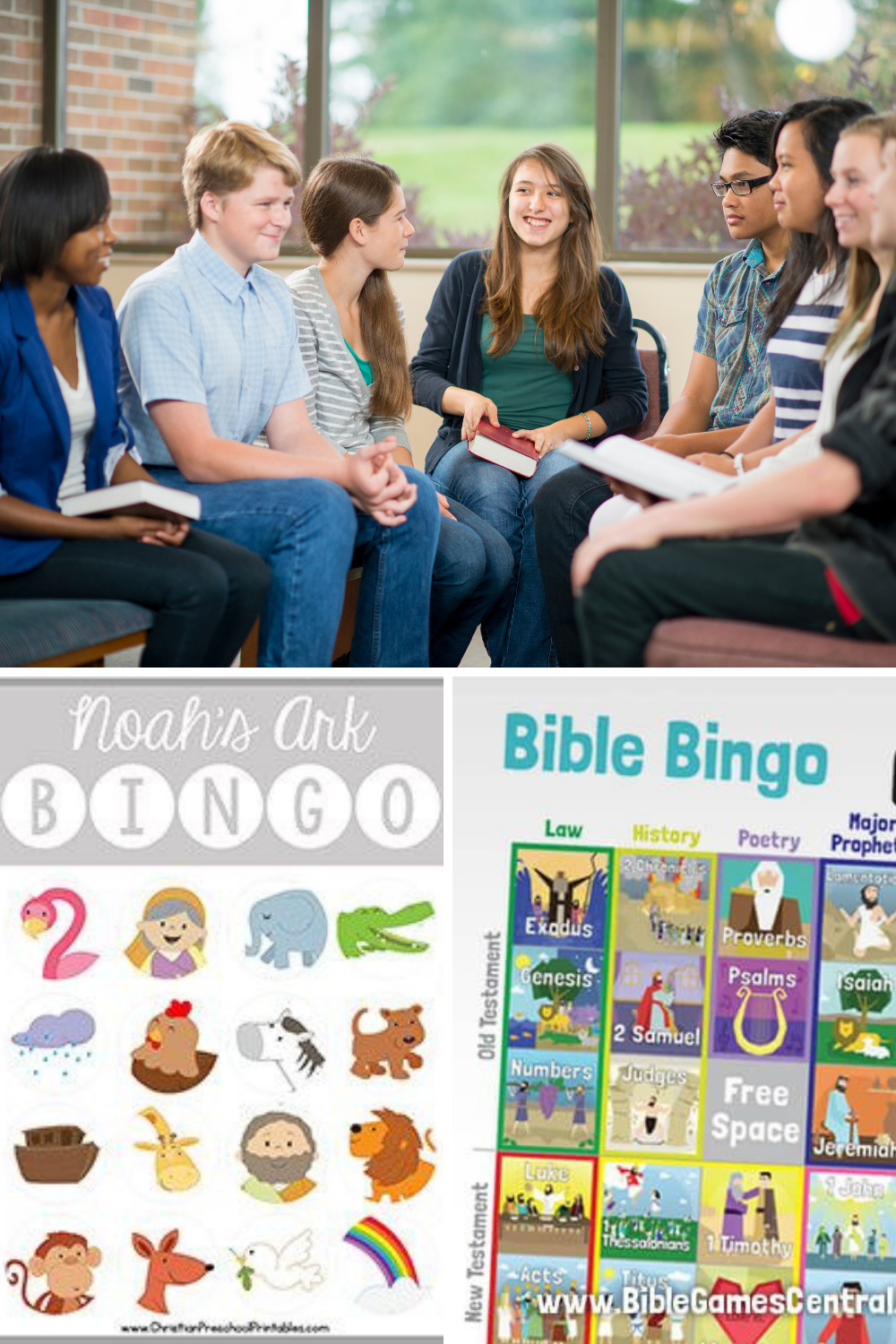 More Fun Printable Game Ideas
Printable Christmas Games – Whether you're going on a holiday road trip, hosting a fun Christmas Party, or prepping some fun activities for your class these printable Christmas games are the perfect way to add a little fun to the holiday season. One of my favorite games to always have on hand are quick printable games, they are great to keep in your back pocket and just printing off a few copies for everyone to play. Here are our favorite Christmas printable games, enjoy!
Printable Ice Breaker Games – Celebrating birthdays, babies, reunions, weddings, or just friends is a great way to get together with your favorite people in the world and have a great time. If you're anything like me, you might have several different friend groups or family that may not all know each other. That can sometimes make parties a little awkward in the beginning. There is nothing worse than going to celebrations whether it be a baby shower or birthday bash and having that weird awkward silence at the beginning when everyone is starting to mingle. That is why I love these fun printable ice breaker games so much! They are such a great way to break that ice and get everyone mingling and laughing together.
Fun Printable Board Games – Whether it's game night with the family or helping the little ones learning their rhyming words these 17 Fun Printable Board Games are perfect for all gaming occasions. There is something so simple and fun about playing board games, and with printable board games, you can customize the fun!