Inside: 17 Creative Games to Play at a Party.
Hosting a party? These simple and fun party games are the perfect fun to have during your bash! I love to have fun and simple games planned for when things slow down at the party. There is always a moment in a party where you need to break the ice or get everyone comfortable, these simple and creative party games are the best way to start your next party.
Check out our favorite creative games to play at a party.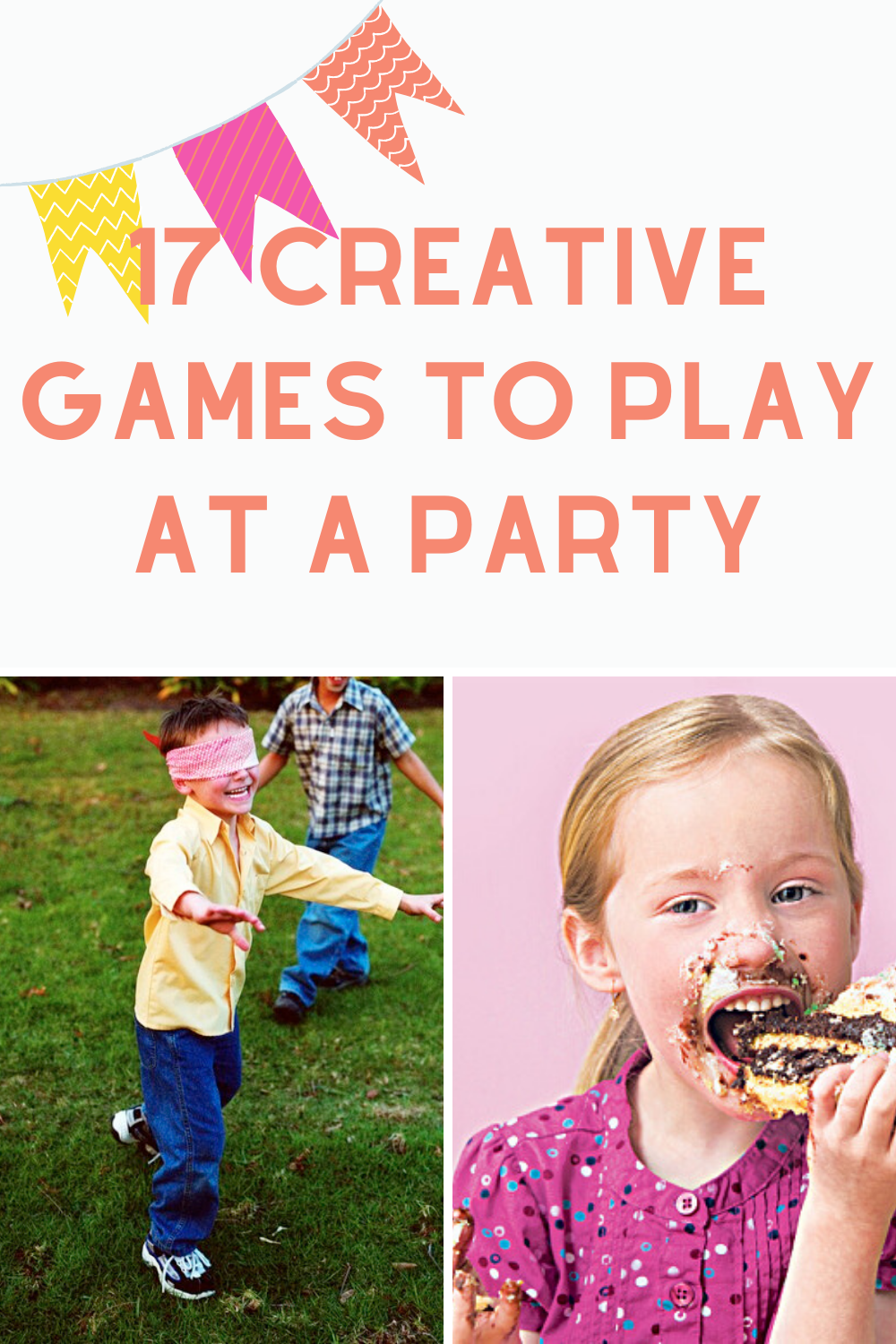 Creative Games to Play at a Party
Mummy Wrap: Two teams must try to wrap a player in a roll of toilet paper.
Cherry Pie: Each player must eat 5 cherries with their hands behind their backs.
Ice Cube: Players are each given an ice cube. Whoever can melt the ice cube the quickest (without putting it in their mouths, stomping on it or using any equipment) wins.
20 Questions: Players are only allowed to ask 20 questions to correctly guess an object.
Two Truths & A Lie: Players take turns saying two truths and one lie about themselves and other players have to guess which one is the lie.
Limbo: Players try to walk under a horizontal pole by leaning backward. They cannot fall or touch the pole.
Creative Kids Games to Play at a Party
Party Bags: Kids take turns sticking their hands into the party bag and trying to guess what the objects are.
Fire Department: Children divide into two lines and attempt to transfer all of the water from a bucket at the start of the line to a measuring cup at the end. Whoever transfers the most wins.
Like, Dislike: All players write down one thing they like and one thing they don't like. Then you try to figure out who wrote what.
Let Them Eat Cake: Kids race to eat a piece of cake using only their mouths with their hands behind their backs.
Musical Chairs: Children parade around a group of chairs as music plays. When the music stops they must sit.
Back-Up: Children sit back to back in pairs and try to stand up together without using their hands.
Freeze Dance: Children dance when the music is on, but when it is turned off they must immediately freeze. Anyone caught still dancing is out.
Party Games for Everyone
Pass the Orange: Players attempt to pass an orange to the next person without using their hands.
Charades: Players try to get their teammates to guess a movie, TV show, or person they are acting out – all without making a sound.
Who Am I: Players must guess the identity of the name written on a card they cannot see.
Blindman's Swag: Couples guide their blindfolded partner to the prize using only words.
Draw Back: Players try to guess the word that their teammate is drawing on a piece of paper on their back.
More Games You'll Love
Ice Breaker Games for Parties – I love a good party, nothing is better than good food, fun music, and great people. But there is always that little bit of an awkward time when everyone is just arriving and the party has quite kicked off! Don't let those awkward silences or uncomfortable first meetings ruin your good time. Here are 43 of the most hilarious ice breaker games for parties!
Totally Fun Games to Play at the Park – I don't know about you but spring and summer are my FAVORITE times of the year. They are filled with backyard barbeques, long days by the pool and spending the day playing with the kiddos! One of our favorite things to do is pack up some of our favorite sandwiches and snacks and heading to the park to play some of our favorite fun games! Here is a list of our all-time favorite fun games to play at the park!
Luau Party Games – Cue the Ukulele music, it's time to party! Now light those Tiki lights, grab a colorful lei and let's get this luau started! There are so many fun things about a Luau, but no party is complete without some fun party game, am I right? Lucky for you we have a list of the best Luau party games!