Inside: The Best Minute to Win It Games to Play at Home.
Give the term "homebody" a whole new meaning! With these crazy fun Minute to Win It Games to play at home. Whether it's a long weekend in, or perhaps the snow or rain prevents you from going outside these at-home games are perfect to fill up the days with laughter and fun.
Most of these supplies you will probably have around the house anyway, which makes prepping super easy. Split the family up into two teams and go head to head with these Minute to Win It Games.
The Best Minute to Win It Games to Play at Home
Ball Drop: Land three ping pong balls in a single cup while standing on a chair. The trick is to not have the balls bounce out or knock the cup over.
Face Cookie: Place a cookie on someone's forehead. They have to use only their face muscles (no hands) to get it into their mouth.
Defy Gravity: Give each player three balloons. They have to keep all three balloons up in the air for a minute.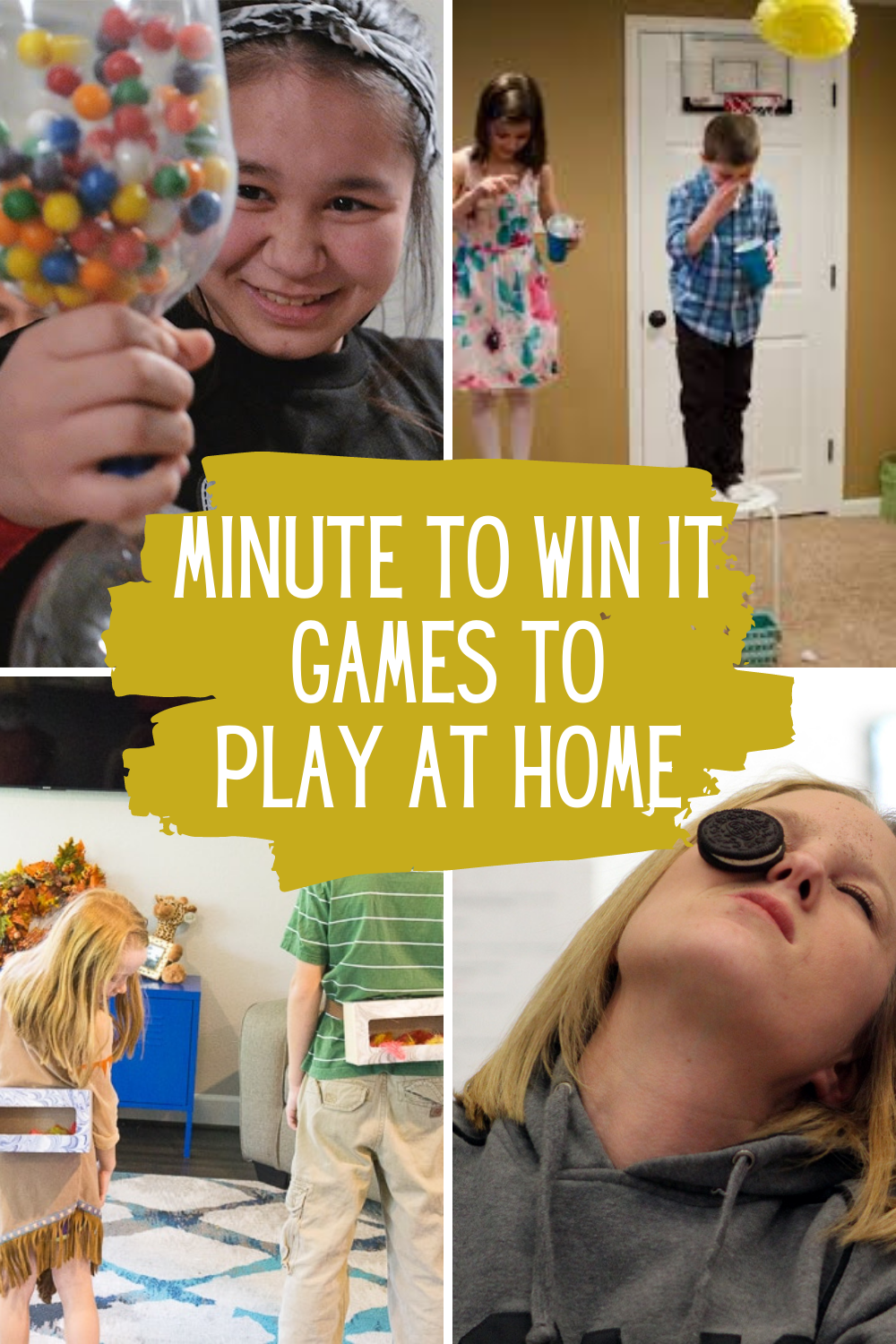 Junk in the Trunk: Players have an empty sandwich bag box (or tissue box) tied to their waist with 6 ping pong balls inside. Players move shake and shimmy to get all balls out of the box in under one minute.
Bottle to Bottle: Fill one 2-liter bottle with something like candy or marbles then tape to another 2-liter bottle. Players have to transfer all from one bottle to the other.
Let's Stay Home (and Play)
Get the "house party" started with these super fun Minute to Win It games at home that the whole family will love.
Book Hockey: Set up an obstacle course of cones, toys, or whatever you have around the house. Player must use a broom to get a book from one side of the obstacle course to a goal at the other side of the course.
Wrap It Up: A two-player game where one person has to wrap the other person in streamers, toilet paper, or something else.
Straw Race: Set up a start and finish line for your racecourse, then line up 5 marshmallows, cotton balls, pompoms, or similar objects for each player at the start. They must use a straw to blow their objects across the finish line. The first one finished or the one with the most over the line after a minute is up is the winner!
Scoop It Up: Using nothing but a spoon in your mouth, transfer six ping pong balls from one bowl to another) in less than one minute. No hands! Hands are only allowed if you drop the ping pong ball, and then they can be used to place the ball back into the original bowl for another transfer attempt. 2-3 players compete for each round of play.
Breakfast Scramble: Cut the front of a cereal box up into small pieces puzzle-style and have players try to put it back together as quickly as they can.
Play These Minute to Win It Games at Home
Iron Man: Use a chopstick to stack iron nuts on top of each other.
Water Cups: Set out like 25 cups, filling all of them partway with water. Put a sticker on the bottom of some of the cups. Players have to pick one cup at a time, trying to find a sticker.
Roller Rings: Set up several paper or plastic rings on the floor about 10 feet away from your players, and have them attempt to roll tennis balls into the rings. Whoever has the most balls in a ring at the end wins.
Eat it Up: Before the party, make red or orange gelatin with some sort of food-safe object in the bottom of the bowl. The Player has a minute to get to the object by eating through the jello, no hands allowed.
Chandelier: Light up the fun! You'll need 15 empty soda cans and four paper plates. Kids have one minute to stack cans with paper plates in between to see how high they can go.
More Fun Minute to Win It Games You'll Love
Easy Minute to Win It Games – Here we are again with the perfect round-up for Minute to Win It Games. I think it's safe to say that Minute to Win It is one of my favorite party games to play, they are fun, simple, and perfect for a good time! These easy Minute to Win It games are full of creative fun and are perfect for your next game night with friends or family.
Minute to Win It Games for the Office – We can't be all work and no play, every now and then we have to have a little fun at work. I love a good office party, there is something crazy about letting loose with the staff after a long week.
Minute to Win It Games for Kids – I love a good game night, obviously! But we have really been into Minute to Win it style game lately. They are fun quick-paced and usually provide LOTS of laughs! These games keep everyone on their toes, and no one gets bored! I usually love playing these games with a large group. They are all easy to play, pretty inexpensive to prep and are SO much fun!