Inside: Best Favorite Giant Board Games my family loves.
Board games are one of my favorite ways to celebrate a family game night or a long weekend. Something about all of us gathering around for some healthy competition! Now the weather is getting warmer it is a great time to take that fun outside, which is why I LOVE these fun Giant Board Games.
Now that the sun is shining and the days are getting longer we like to take family game night outside! From connect four, giant dominoes, and giant Jenga these Giant Board Games make summer game nights WAY MORE FUN!
Our Favorite Giant Board Games
Giant Game of Operation: Okay, I didn't think that I would find this game when researching giant board games but I am so happy I found it! It is SO cool and cost less than $10!! WIN-WIN!
Connect Four: A great party game for kids, adults, and families attending birthday parties, BBQs, camping, lake or beach days, weddings, corporate events, football tailgating and more.
Life-Size Chess Game: These huge giant chess pieces are perfect for backyard barbeques because they are plastic and heavy duty! Which means the weather won't destroy after one season!
Giant Bowling: Turn regular old bowling into massive fun with our oversized inflatable bowling set. It's made for jumbo fun! And it's perfect for either an outdoor party game or indoor rainy day fun
Scrabble: Just like the classic game, but on a super scale! I mean what can be better than that!
The Bigger the Better – Best Giant Board Games
OH, WHAT FUN! I love these great ideas! How cool is that giant Hungry Hungry Hippo game?!!
Hungry Hungry Hippo: Grab some plastic balls, laundry baskets, and scooters and you have one heck of a game! First, I love hungry hungry hippos but make it giant and it's all-around 100 times better!
Giant Candy Land: I love how they used a big field and some spray paint to create their board! What a great way to create this giant board game anywhere!
Dominoes: Giant Wooden Dominoes Set takes a classic game to the next level. This set includes 28 tiles and offers many variations for gameplay such as blocking, scoring and draw. Each piece is beautifully hand-crafted out of pinewood, with brightly colored pips on each end.
Giant Uno: My husband and I play Uno almost every day, no joke! So I was super pumped finding these giant Uno cards made us both so excited!
A Few More of Our Favorite Giant Board Games
Here are a few of the cutest giant board games around!
Kerplunk Yard Game: Need an entertaining yard game for your next seasonal gathering? Giant kerplunk to the rescue! This DIY is the perfect last-minute option that will keep your guests happy all night.
Tic-Tac-Toe: I'm bringing you this fun outdoor DIY Giant Tic-tac-Toe. The kids will love it. You'll love it. It's guaranteed to be a family favorite – pinky-swear!
Giant Jenga: An all-time favorite, Jenga, is even better when 10x its normal size! Is is one of my favorite backyard games to play during warm days.
Giant Chinese Checkers: This is so great for indoors and outdoors! This huge Chinese Checkers set keeps the fun going for hours.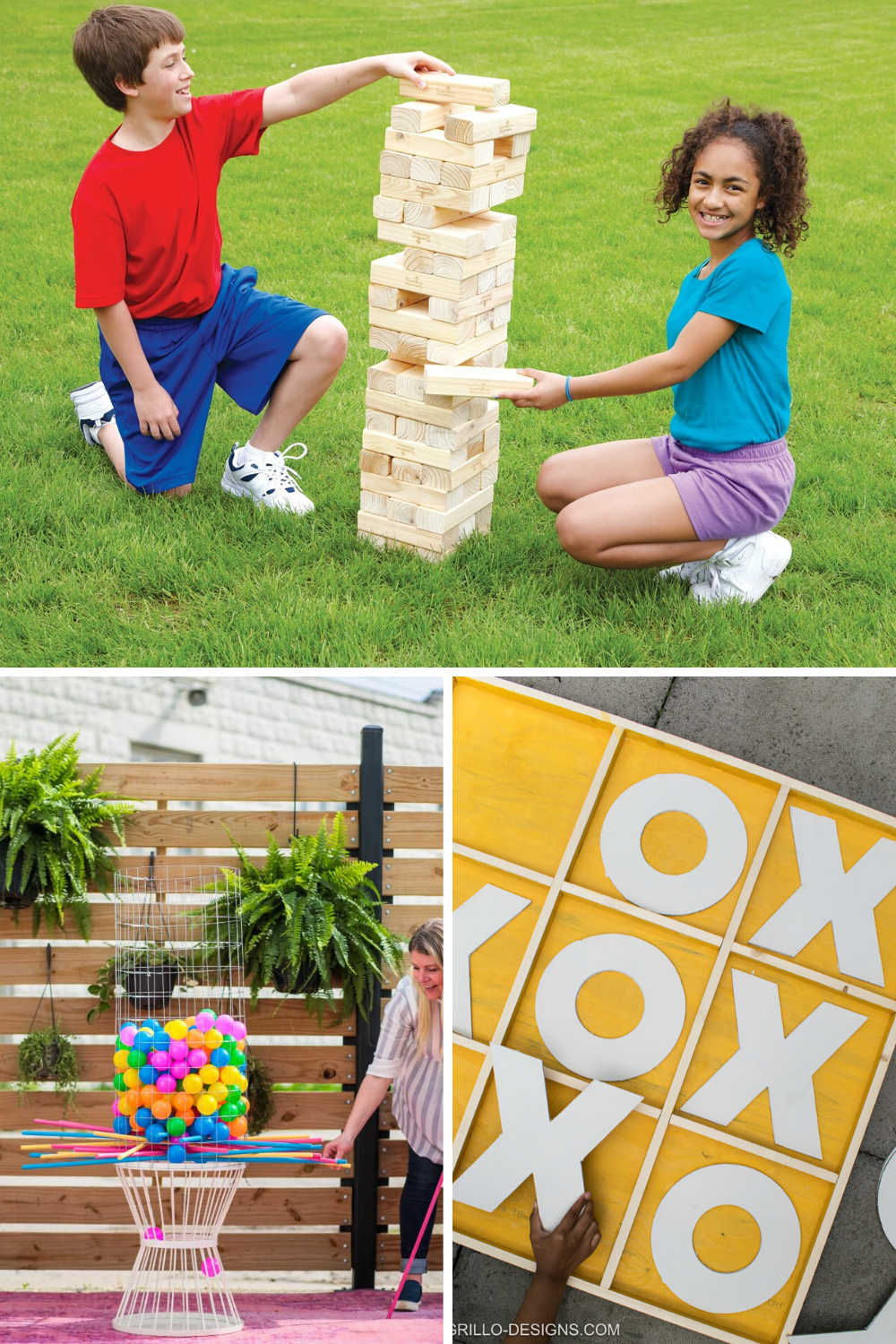 More Games You'll Love
If you like these giant board games, then you will love these other fun game ideas! Check out a few of our favorites!
The Best Toddler Birthday Games – Nothing is sweeter than a fun birthday celebration, we are FIRM believers in that around here, add toddlers to that mix and talk about a good time! Planing a party for your little ones can be difficult. I mean toddlers are notorious for having their own STRONG opinions and put 10 of them in a room together and things could get dicey. But these fun toddler birthday party game ideas are sure to make your next toddler birthday bash go a little smoother. Plus let's be honest they are all there for the cake.
Best Amazon Board Games – Ditch the TV and let the games begin! We love a good game night, whether its a game night with the kids, our adult friends, or as a family this list of 25 Best Amazon Board Games make for one FUN game night full of laughs and fun.
Totally Fun Games to Play at the Park – I don't know about you but spring and summer are my FAVORITE times of the year. They are filled with backyard barbeques, long days by the pool and spending the day playing with the kiddos! One of our favorite things to do is pack up some of our favorite sandwiches and snacks and heading to the park to play some of our favorite fun games! Here is a list of our all-time favorite fun games to play at the park!
Let us know in the comments your favorite board game that you would love to see GIANT!