Inside: Amazing Board Game Storage Ideas.
Keeping your kids' toys and games organized is a difficult task, but board games, in particular, are especially hard to keep in order. On top of the small pieces and piles of cards, most board game boxes don't last the test of time.
Which means all those tiny components usually end up spilling out each time you put your games away. If you're hoping to get a handle on your family's board game collection, you're in luck!
We have some amazing board game storage ideas to help you get the board game clutter in your house under control.
Tips for Organizing Board Games
Use baskets or bins to group small games together. This is perfect for decks of cards, smaller games, and more so that you are not looking everywhere when you want to play.
Use Ziploc bags for game pieces, puzzle pieces, and more. This will easily fit inside the game boxes and you won't have to worry about losing these small pieces.
Go through each game before you start organizing, get rid of any games missing any pieces. Also, make sure each game has all its pieces, and plan out storage containers, boxes, and bags.
Amazing Board Game Storage Ideas
1. Plastic Drawers: For those loose piece games, that done require a board this is a great option to keep all the pieces together and organized. Just simply pull out the drawer next time you want to play the game then slide it back in when you're all finished.
2. Pot Lid Racks: There are so many versatile uses for a pot lid rack, that this game organization doesn't surprise me..but it is one of those "oh wow" moments! This would be a great way to store games in the family room under a coffee table.
3. Rubber Band Wrap: How many times do you have broken boxes or pieces falling out of the boxes when the kids are moving them around? All. The. Time. Putting a rubber band around each box is a great way to keep everything together and not falling all over the floor!
4. Zip Lock Bags: I love this tip for those of us who don't have a whole lot of room to store boxes! Buy some of these larger Ziploc bags and dump everything into the bag. Zip it up and store it in a nice basket. Genius!
A Few More Board Game Storage Ideas
5. Card Containers: As soon as I saw this card storage tip. I knew that it was a tip for me. How many random Uno, Skip-bo, Old Maid cards do you find laying around the house, under the couch, in your bed, or under the oven? In my household…all of them. Do yourself a favor, go to the Dollar store and pick yourself up some travel soap containers to store your card games.
6. Hanging Closet Organizer: We love these hanging organizers for lots of different uses. Use one to keep all of your board games in order and out of sight.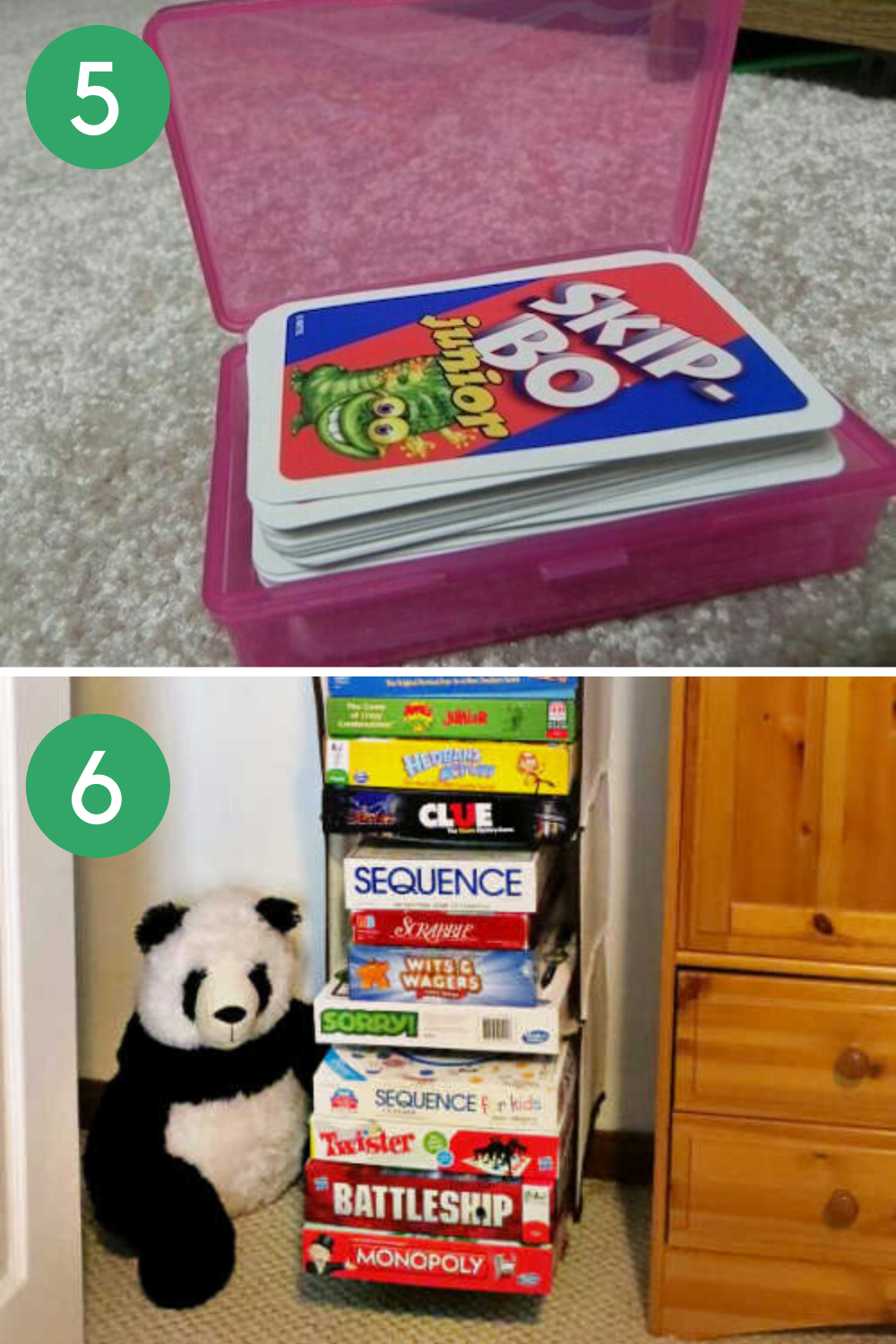 7. Gaming Tower: Make this really cool DIY swivel organizer to hold all of your board games and more! I love how you can turn it around and have easy access to each side.
A Few Game Ideas Perfect for Your Collection
Best Amazon Board Game – Ditch the TV and let the games begin! We love a good game night, whether its a game night with the kids, our adult friends, or as a family this list of 25 Best Amazon Board Games make for one FUN game night full of laughs and fun. Now I cannot promise there won't be a little friendly funding but don't worry it won't last long!
Family Board Games – Family game night is my favorite night around here. It is full of friendly, sometimes intense, competition, lots of laughing, and great memories! Finding the right game for our beloved family game night can sometimes be a challenge. As the kids get older it becomes easier and easier to find a board game that we can all enjoy! This list of the best family board games is my tried and true for every family game night.
Best Board Games 2020 – One of my favorite things to do is gather up my friends, put together a good cheese board, have some wine, and play totally fun board games. Now, I can't give you the best advice for the perfect cheeses and tastiest wine, but I have one heck of a round-up of the best board games of 2020! Trust me, each of these is PERFECT for your next game night.