Inside: Celebrate Big with these 40th Birthday Party Games.
The big 4-0! What a year, you are in the prime of your life honey and it is time to celebrate. So call up all your friends and let's get this party started, with 40th birthday photoshoot ideas first of course.
After great photos, every good birthday requires good wine, great food, and some bomb party games!
Lucky for you we have all the games you could need for your 40th.
Check out our list of the best 40th birthday party games and let us know which one is your favorite.
40th Birthday Party Games
40's Trivia: This could be played many different ways, but here are a few to get you started!
Host a "trivia night" about:
1940's trivia (Google facts about important and random things happening from 1940-1949 and quiz your guests!
Trivia about the first 40 years of the birthday boy or girl's life
Questions regarding the number 40. (Athletes who wear the number 40, songs in the top 40, or read up on Facts about the Number 40 to pull your trivia questions!)
The winner of trivia night wins 40 of something! (40 lollipops, cookies, $40, or 40 of the birthday boy/girl's favorite thing!)
Dirty Cupid: Another gift exchange idea, but with a twist. Have you heard or played Dirty Santa? This is a whole new spin on the game! Find out more about the Dirty Cupid Gift Exchange!
Over the Hill: Hiking party/ picnic- Going outside and enjoying a beautiful day with friends is a wonderful way to connect offline and breathe in the beauty of nature. Plan your day to have a successful walk to the heights of a breathtaking vista near you.
Check out your local state parks.
Picnic areas for post hiking celebrations which makes this adventure budget-friendly. This requires minimal decorating as you are set in the best decorations nature can provide.
40th Card Game: Who knew there was a card game specifically for 40th birthdays!?
Escape Room: Not going to lie, I'm kind of obsessed with Escape Rooms. To put it simply, you and a maximum of 7 other people walk into a room and 60 minutes to figure out how to get out following clues. It usually requires players to find clues, find keys, and find codes that all unlock locks that help you get of the room.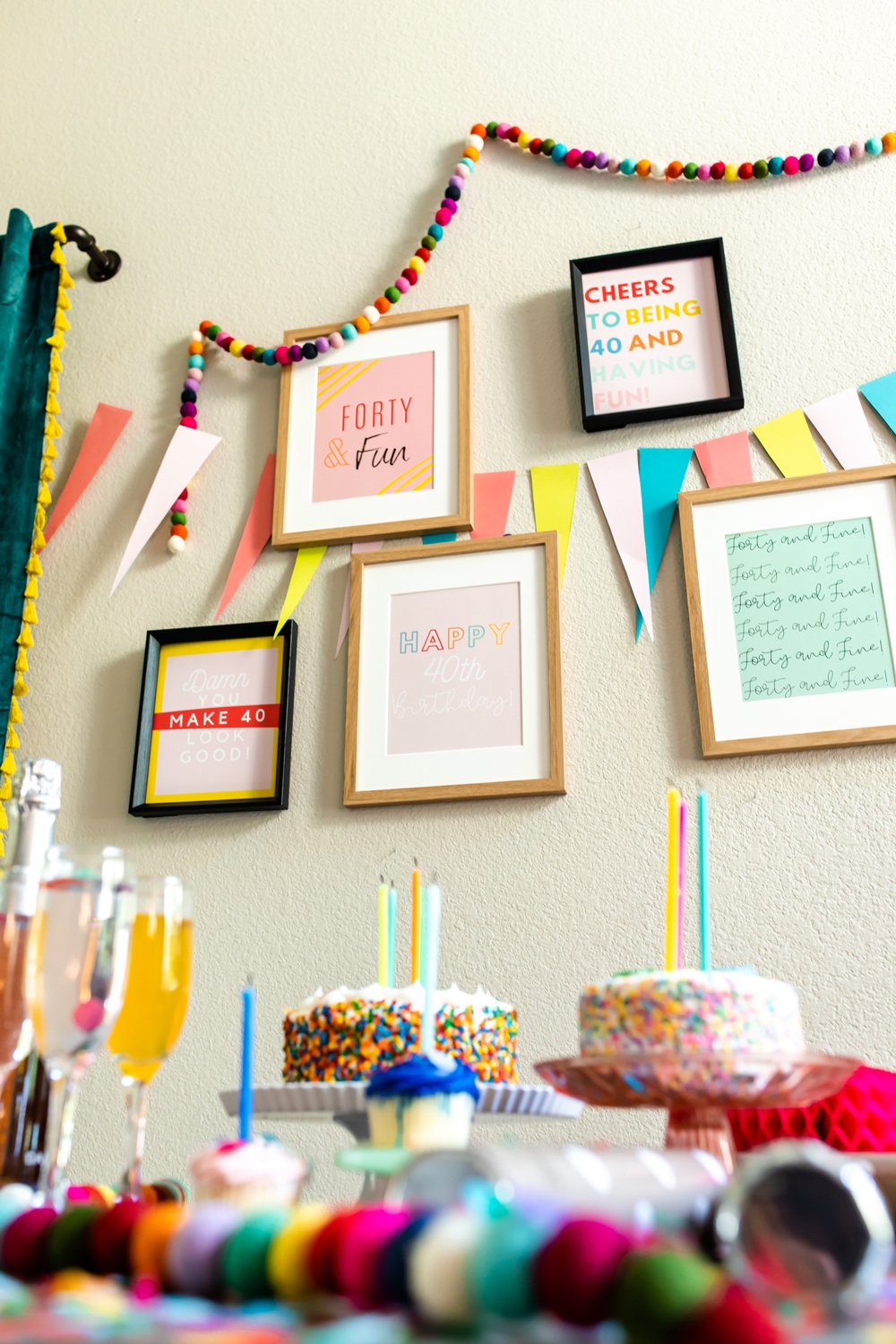 Drinking 40th Birthday Party Games
Sip, Sip, Shot: An adult version of Duck Duck Goose. Everyone sits in a circle and one player goes around bopping people on the head, telling them to "sip." Each bopped person takes a sip of their drink until the bopper chooses someone to say "shot" too.
The shot person has to leap up, chase the bopper around the circle, and try to tag them. If they succeed, they take over as bopper; if they do *not* succeed, they have to take a shot.
Most Likely To: Everyone sits in a circle and one player asks a "most likely" question! Like "Who would be most likely to fangirl over a celeb" or "Who would be most likely to eat someone else's sandwich from the refrigerator at work?". On the count of three, everyone points to whoever they think would be most likely to do whatever act was mentioned. You have to take a drink for every person who's pointing at you (so if seven people think you'd take someone's sandwich, you have to take seven drinks).
Brown Bag: This is a hilariously funny drinking game to watch. Place a brown paper bag on the floor. A player must reach down and pick it up with their mouth. The only thing that is allowed to touch the floor is your feet, and the only thing that is allowed to touch the bag is your mouth. If someone fails they must take a shot or chug a beer. After every round, cut off an inch from the top of the bag and play again. This game is like limbo in reverse.
Birthday Games for 40th Birthday
Don't Say Yes: You've probably heard of those taboo word games before, but this one will be quite the challenge. Guests aren't allowed to use the word, yes, or any variation of it. You can have them wear a sticker or a yarn necklace if they say the word during the party. It will be fun to see who's the most "decorated" at the end of the night.
Movie ID: Players have to get their team to guess a movie title using a limited number of words before the other team can get their team to guess it! It's kind of like the old school Name That Tune game show but with movies instead!
Great Minds Think Alike: Great Minds Think Alike is a game where you want to choose what you think everyone else will choose: the more people who get the same answer, the more points those people will kit.
Kiss, Marry, Kill: This game of Kiss Marry Kill is a less personal touch on the original game because you use fictional characters or celebrities for your choices.
More Games That Are So Much Fun
Bachelorette Party Games – Planning a bachelorette party can be super stressful because there are so many things to think about. But girl, I've got you covered with the games and activities. Here you'll find twenty-five printable bachelorette party games.
Free Printable Baby Shower Games – These free printable baby shower games are TONS of fun and perfect for planning your next baby shower! They are full of laughs and the sweetest moments for mommy to be!
Totally Fun Games to Play at the Park – I don't know about you but spring and summer are my FAVORITE times of the year. They are filled with backyard barbeques, long days by the pool and spending the day playing with the kiddos! One of our favorite things to do is pack up some of our favorite sandwiches and snacks and heading to the park to play some of our favorite fun games! Here is a list of our all-time favorite fun games to play at the park!