Inside: Party Games for Senior Citizens to Enjoy. 
I am a firm believer you are never too young or too old to have a little fun. From the smallest of ages to the wisest of years, everyone deserves to let loose, laugh, and have a good time. From indoor fun to big birthday bashes, these free senior citizens games are a blast.
Although getting older poses its challenges we still managed to find a fun list of hilarious and entertaining party games for Senior Citizens to enjoy.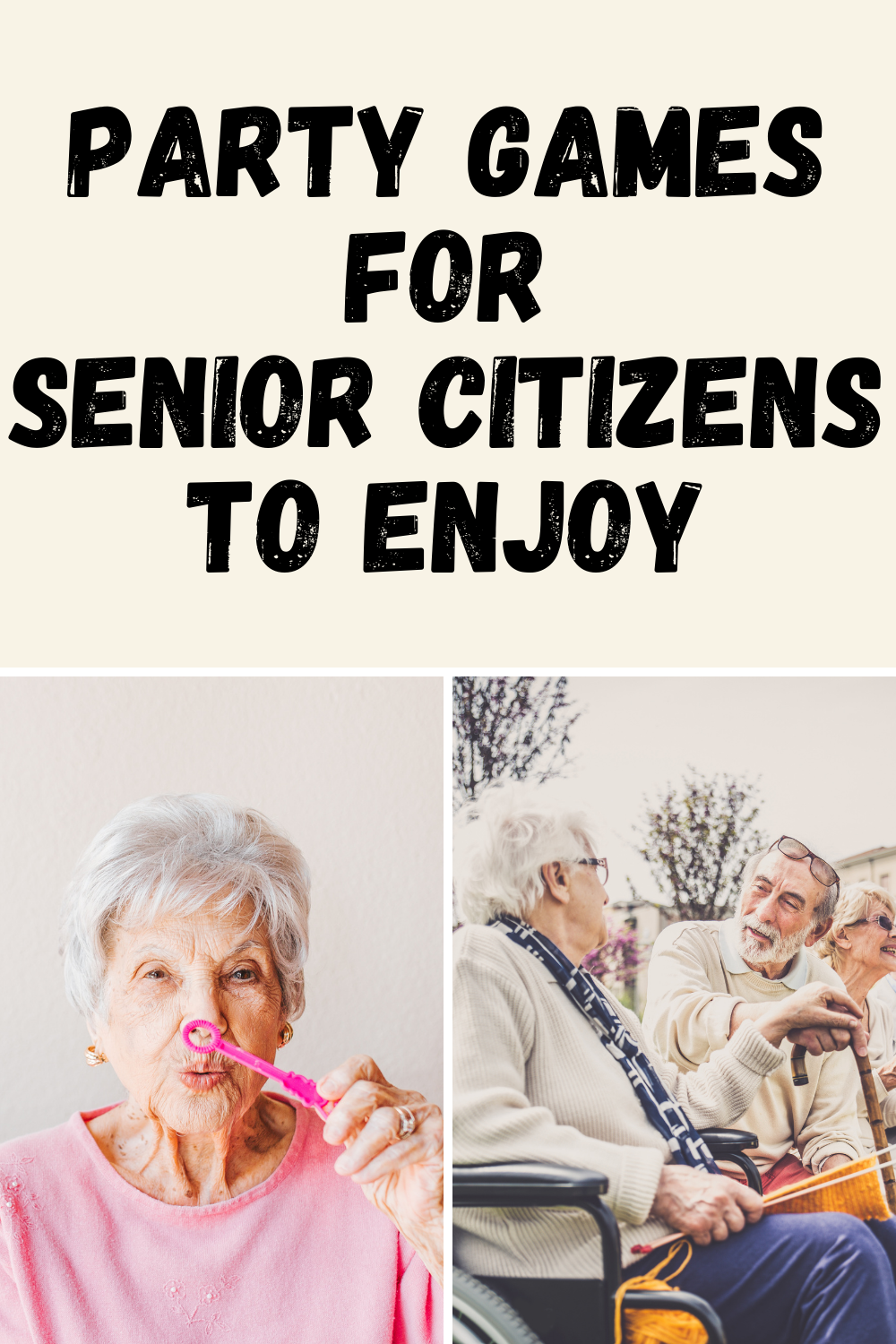 Party Games for Senior Citizens
How Old Are They?: Guessing is a popular elderly game. Here's a fun one. Make a list of at least 20 famous people, either current or of yesteryear, in an age group that would be of interest to your participants. Ideas: movie stars, singers and musicians, prominent politicians, inventors, etc. (Some could also be deceased). Research can be done online. Have them guess their ages, or age they would be if still here.
Choose a Letter: Elderly games with words are popular, and this one works especially well if you have a theme at your get-together (but not necessary). We've done this at a luau. Choose 2 words that have several letters: i.e., Coconut, and Pineapple. Everyone writes them down. Whichever team or individual that can come up with the most ideas, wins. You could also use the same rules as scategories.
Make a game of exercise: This clever website streams amazing scenery and sounds of exciting destinations from all over the world, so you feel like you're "touring" while you exercise. Can be done in a chair too! An entertaining way to get fit, and perfect for seniors. They're even offering a Free Trial! Visit them at Passport For Wellness.
Fact, Fiction, Trivia, and Puzzle Games for Elderly
Fact or Fiction: Pass out pens and paper, numbered according to the number of your questions. Read a weird statement and ask participants if it's Fact or Fiction. They write the answer on the appropriate line. At the end, read back the answers. Top winners get prizes.
Topic Trivia: You can think up gazillions of trivia topics for this game. Play this in teams or individually; in a bus, at a party, around a table, any time. Keep score (your favorite way) or not. Write down answers, or not – perhaps just call them out for fun. Modify this according to your group.
Photo Puzzle: This is most fun if you have taken previous photos of each group member. Blow up the photos on a color copy machine so they are at least 8×10 in size. Divide the group into teams. Each team gets a photo that you have cut up into puzzle pieces, as complicated as is appropriate for your group. Set a timer for the time frame you want: about  3 to 5 minutes. The team who puts their puzzle together first within the time frame win prizes. – This would be such a cute Christmas party game for Senior Citizens, each member can dress up in fun elf or Christmas outfits for their photo.
Can You Guess – Fun Guessing Party Games for Senior Citizens
Guess Who Game: Have everyone in your group bring a childhood photo of themselves. Write their name on the back. Put a post-it note with a number on the front. Attach them all to a bulletin board. Everyone in the group gets a pen and paper, with a list of all the numbers. After each number, they write the name of which person they think the child was. Whoever gets the most right wins a prize.
What I Loved To Do As A Child: Elderly games can also involve fun reminiscing. Go around the room with each person discussing their favorite activity or hobby when they were a child. Did they continue it as they grew? Why were they attracted to that activity? Are they still interested today? Do they still participate? If not, would they like to? If the activity is no longer possible to participate in, is there any way it can be modified in order to still enjoy it? Would others in the room also be interested? Sometimes interesting friendships or groups can be started this way, or interests renewed. And it definitely will spark fun memories and a few laughs.
The Price Is Right: Elderly games are available in the stores as board games,  but you can also devise your own. Have several items from the store available that are familiar to your group and may still even shop for. Then draw names to "come on down." The contestants guess at the price of an item or several. Whoever comes the closest but not over, wins a prize.
More Fun Game Ideas that Everyone Can Enjoy
Printable Family Reunion Games – One of my favorite memories growing up was attending our family reunions! There was something so fun and exciting about seeing family that you knew and loved but were also kinda like strangers. Every few years we would gather together and become reintroduced to our own family. Seeing cousins and getting spoiled by great grandparents was such a joy. We always have fun activities planned and AMAZING food to eat! Check out a few of our favorite printable family reunion games that will make your time just a little extra special.
Ice Breaker Games for Parties – I love a good party, nothing is better than good food, fun music, and great people. But there is always that little bit of an awkward time when everyone is just arriving and the party has quite kicked off! Don't let those awkward silences or uncomfortable first meetings ruin your good time. Here are 43 of the most hilarious ice breaker games for parties!
Easy Minute to Win it Game – Here we are again with the perfect round-up for Minute to Win It Games. I think it's safe to say that Minute to Win It is one of my favorite party games to play, they are fun, simple, and perfect for a good time! These easy Minute to Win It games are full of creative fun and are perfect for your next game night with friends or family.