Inside: Dinner Party Games for Adults.
An adult dinner party is one of the best things about being an adult. I mean the wine, the yummy dishes, the awesome convos, and of course the great memories! I love hosting a fun dinner party and one of my favorite things to do is play some awesome games.
There are so many different games to play from ice breakers to drinking games, to games that might be a little more risk-ay.
Check out this awesome list of dinner party games for adults that pack a playful punch!
Dinner Party Games for Adults
Press Conference: Someone holds a "press conference" and answers questions from the other guests. Catch is that the person holding the conference doesn't know who they are pretending to be but the rest of the guests do.
Quick Wits: If your friends are rowdy crew, they'll love QuickWits, which encourages people to shout over each other as they try to be the first to answer questions.
Bite the Bag: Bite the Bag is a simple drinking game that will have your guests trying to pick up a paper bag with only their mouths. When a guest fails, they'll need to take a drink meaning the game will get funnier as the night goes on. 
Spoons: Spoons is a card game that's great for any age or group of people. It's fun and fast but still a card game that everyone can play.
Pictionary: You don't need to buy the game Pictionary to play it at your next party. You can easily make up your own cards and set up a big drawing area for your guests.
Great Ice Breaker Dinner Party Games
Not So Newlywed Game: The Not So Newlywed Game is the perfect way to entertain your friends at your next dinner party! These questions take you through dating, engagement and the wedding, firsts, friends, and family, favorites, best and worst, finances, preferences, making love, fun facts, love and marriage, and the future. 
Convo Cards:  If you're looking for a low-key icebreaker for your party, these conversation cards from Living Locurto are a great idea. They can especially be fun for a dinner party.
Hot Seat: Want to get to know your friends better? Then you will love this game, which will help you find out who your friends really are. You may even discover a few things you didn't want to know!
Who Am I?: This is a guessing game where you act or draw the famous person on the slip of paper that you drew. Can your teammates guess who you're pretending to be? There are many other variations of this game, one of my favorites is to use sticky notes and place the name on the guests' backs. It makes for a fun and easy icebreaker.
React and Act: React, and Act is an icebreaker game that will have your guests acting and reacting to different situations such as winning the lottery or getting fired.
Dinner Party Games that Go All Night
Don't Say Yes: You've probably heard of those taboo word games before, but this one will be quite the challenge. Guests aren't allowed to use the word, yes, or any variation of it. You can have them wear a sticker or a yarn necklace if they say the word during the party. It will be fun to see who's the most "decorated" at the end of the night.
Sticker Game: Even grown-ups like stickers and in the Sticker Stalker Game challenges your guests to place as many of their stickers on the other guests as possible.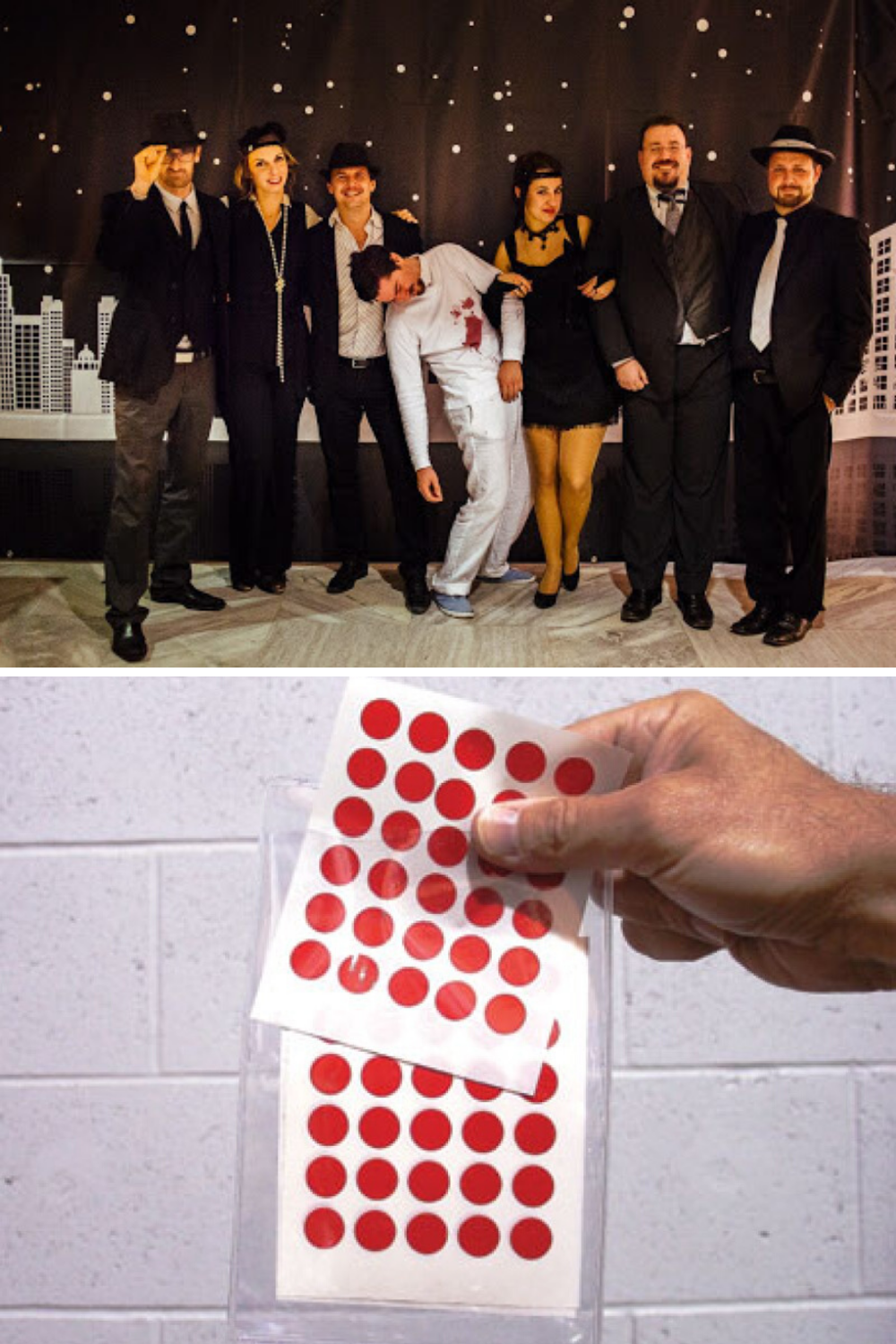 Murder Mystery Games: Murder Mystery games aren't just for Halloween; they can be played at any time of the year. A single murder mystery game is all you need to have a whole evening of fun with your friends. There are many free mysteries to choose from, and each contains charter descriptions, clues, scripts, and more.
More Games You'll Love
Amazon Board Games – Ditch the TV and let the games begin! We love a good game night, whether its a game night with the kids, our adult friends, or as a family this list of 25 Best Amazon Board Games make for one FUN game night full of laughs and fun.
Bachelorette Party Games – Planning a bachelorette party can be super stressful because there are so many things to think about. But girl, I've got you covered with the games and activities. Here you'll find twenty-five printable bachelorette party games.
Games to Play at the Park – I don't know about you but spring and summer are my FAVORITE times of the year. They are filled with backyard barbeques, long days by the pool and spending the day playing with the kiddos! One of our favorite things to do is pack up some of our favorite sandwiches and snacks and heading to the park to play some of our favorite fun games! Here is a list of our all-time favorite fun games to play at the park!