Inside: Totally Cool 11-Year-Old Birthday Party Games for Tween will LOVE.
There is nothing better than impressing your kid and all their friends with one heck of a birthday party! Am I right?  The tricky part is as they get older the tougher it gets. 11-Year-Olds are still somewhat in that fun childlike stage, but coming into that awkward tween stage of being "cool" which can make planning a "cool" party… uhm rough?
But don't worry, we have come up with some "totally cool" 11-year-old birthday party games that your tween and all their friends will love. From inside to outside and all the crazy activities in between, this list of great party games for 11-year-olds will make your party planning a breeze.
Cool Birthday Party Games for 11-Year-Olds
Hanging Donuts Game: To play, tie a length of rope above head height between two trees or poles. Thread a piece of ribbon through the hole in each donut and then tie the ribbon to the rope so that the donut is hanging just above mouth level. On a start signal, each player tries to eat their donut – no hands allowed!
Egg Toss: It's much funnier if your eggs aren't boiled – especially for tweens and teens! Just be sure to take it outdoors! You'll need one egg per pair.
Pair players up and have them toss an egg back and forth to each other. Each time the children both catch it, they must take a step backward and continue. The team that can catch their egg with the furthest distance between them, wins!
Balloon Stomp: Have guests take off their shoes before playing. Each player will need an inflated balloon tie to a short piece of string and then tied around one ankle.  On 'go' players attempt to stomp on (and pop) each of the other balloons, while trying to protect their own – no hands allowed! The last person with an inflated balloon tied to their ankle wins.
Limbo: You'll need a broomstick for a limbo pole and your favorite tunes for a classic game of Limbo! Hold the pole horizonally to the floor (you'll need a person either end) at about chest height. Players line up and take turns to dance under the limbo pole without knocking or touching it – if you touch it, you're out.
Good Birthday Party Games for 11-Year-Olds
Roll a Sundae: My eleven-year-old niece and her friends had lots of fun with this one at a recent sleepover party. You'll need to choose six different sundae toppings – things like whipped cream, chocolate or strawberry topping, marshmallows, sour worms, sprinkles, mini M&Ms, etc – and you'll need a bowl of ice cream for each person and a dice. Before starting, allocate one number of the dice for each topping, then the kids take turns to roll the dice and they add the topping rolled to their sundae. You can keep going around, adding toppings, for as many rounds as you like. Then it's time to eat! (This is a fun birthday party games for an 11-year-old girl slumber party!)
Wink Assassin
Everybody sits in a circle. One person is nominated to be It and moves away from the circle while everyone else decides who the 'murderer' will be. 'It' is called back to stand in the circle. The 'murderer' winks at one person in the circle at a time (trying to do it without 'It' seeing). When someone has been winked at, they pretend to die dramatically! 'It' has to try to deduce who the murderer is. Once they guess, the murderer becomes the next 'It' and the game starts over.
Neighbourhood Scavenger Hunt: Divide your party guests into two teams and send them off on a neighborhood scavenger hunt. This post at Southern Plate has some great ideas for developing clues and challenges for the hunt.
Indoor Birthday Party Games for 11-Year-Olds (Best Board Game Ideas)
Code Names: Code Name is a very enjoyable game that requires communication and the ability to make some unusual connections. This is a great game of reasoning and lateral thinking.
5 Second Rule: If you're looking for a great family board game that everyone will enjoy – The five Second Rule is it! Often the best games are simple games and this game couldn't be easier to play. All you have to do is name 3 things from a chosen card in 5 seconds. That's it.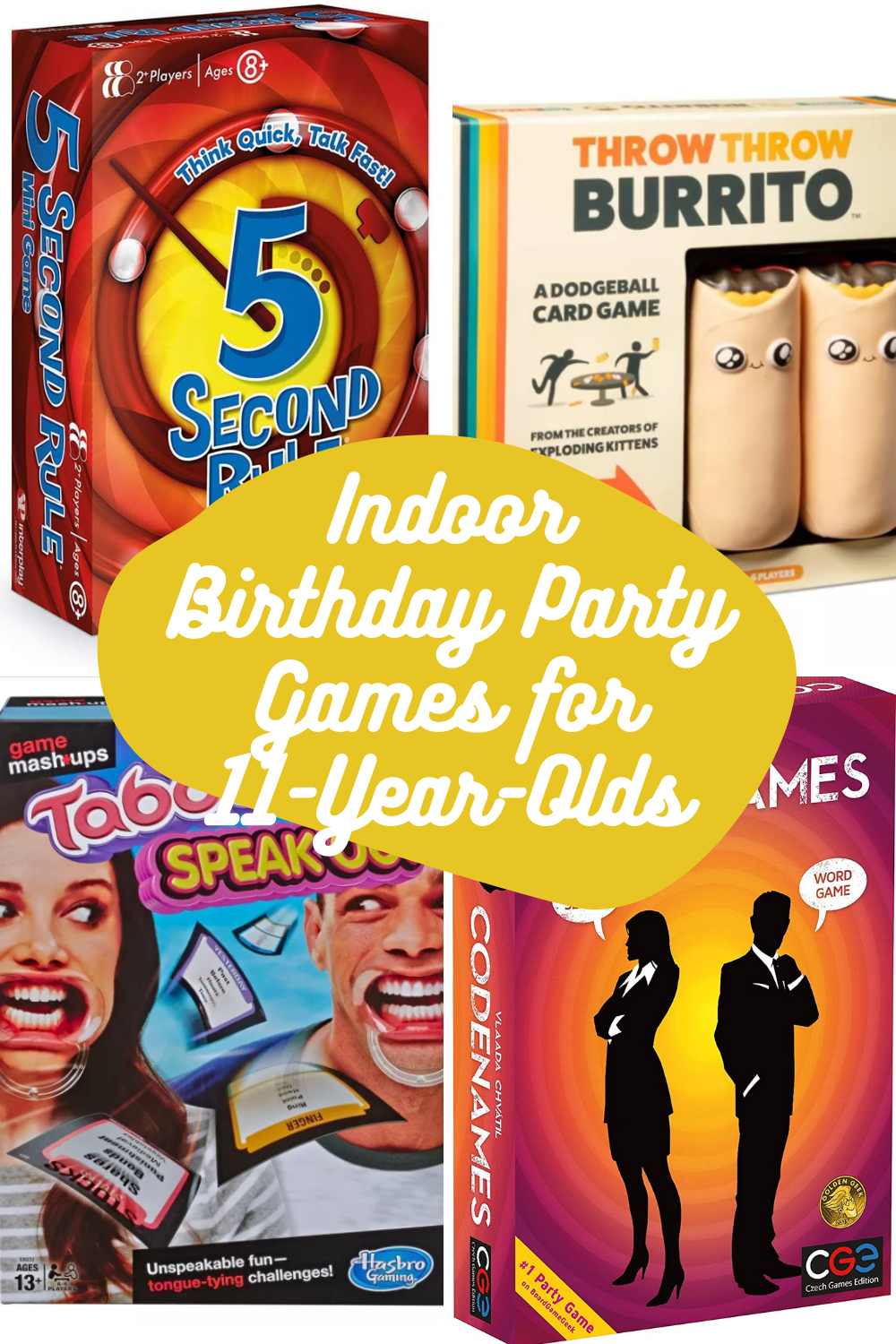 Twister: Twister game challenges you to put your hands and feet at different places on the mat without falling over.
Throw the Burrito: This is one of my kid's favorite games to play.
Tabboo Speak Out Mashup: It's a Game Mashup: Two favorite brands come together to create one awesome game. This Taboo game has a Speak Out twist.
More Fun Game Ideas You'll Love
Minute to Win It Games for Teens – Planning the perfect party for teens can be tough! They are in that weird stage where you can never really tell what is cool to them. Lucky for you we have come up with the best Minute to Win It Games for teens, all you need to do is pair it with some junk food and good music and you have the PERFECT party!
Best Board Games for Teens – As our kids get older, connecting with them can become more difficult. However, sometimes we forget, that teenagers are still kids. They still like to play and have fun. One of my favorite ways to connect with my teen is by playing some fun games I know they will love. Whether it's family game night or the kids and their friends are having a fun night in these board games for teens will be a total hit!
Party Games for Tweens – Impressing those tweens can always be a little difficult, so planning the perfect birthday may not be easy. From inviting friends to feeding those growing kids there are a lot of things to think about. But don't worry we have you covered with the fun! These super fun Party Games for Tweens are sure to impress all those pre-teen guests!