Inside: Wedding Scavenger Hunt Ideas + FREE Printable.
So you're planning for your big day? Let's talk about your guest for a second. Everyone loves weddings, more so when there are fun and interactive activities for them to participate in. Think about it, everyone loves the bouquet toss, the money dance, photo booths, and send-offs.
Why? Because they get to be involved!
Here is another fun way to make sure your guests stay entertained throughout the whole wedding. Bonus, you get some great photos because of it!
The Wedding Scavenger Hunt game is a great way to give your guests a mission during the celebration but also pushing them to have a little more fun.
Make sure each guest grabs a copy of your picture scavenger hunt wedding game and shares their photos with you via Social Media or hand out a few disposable cameras to develop later.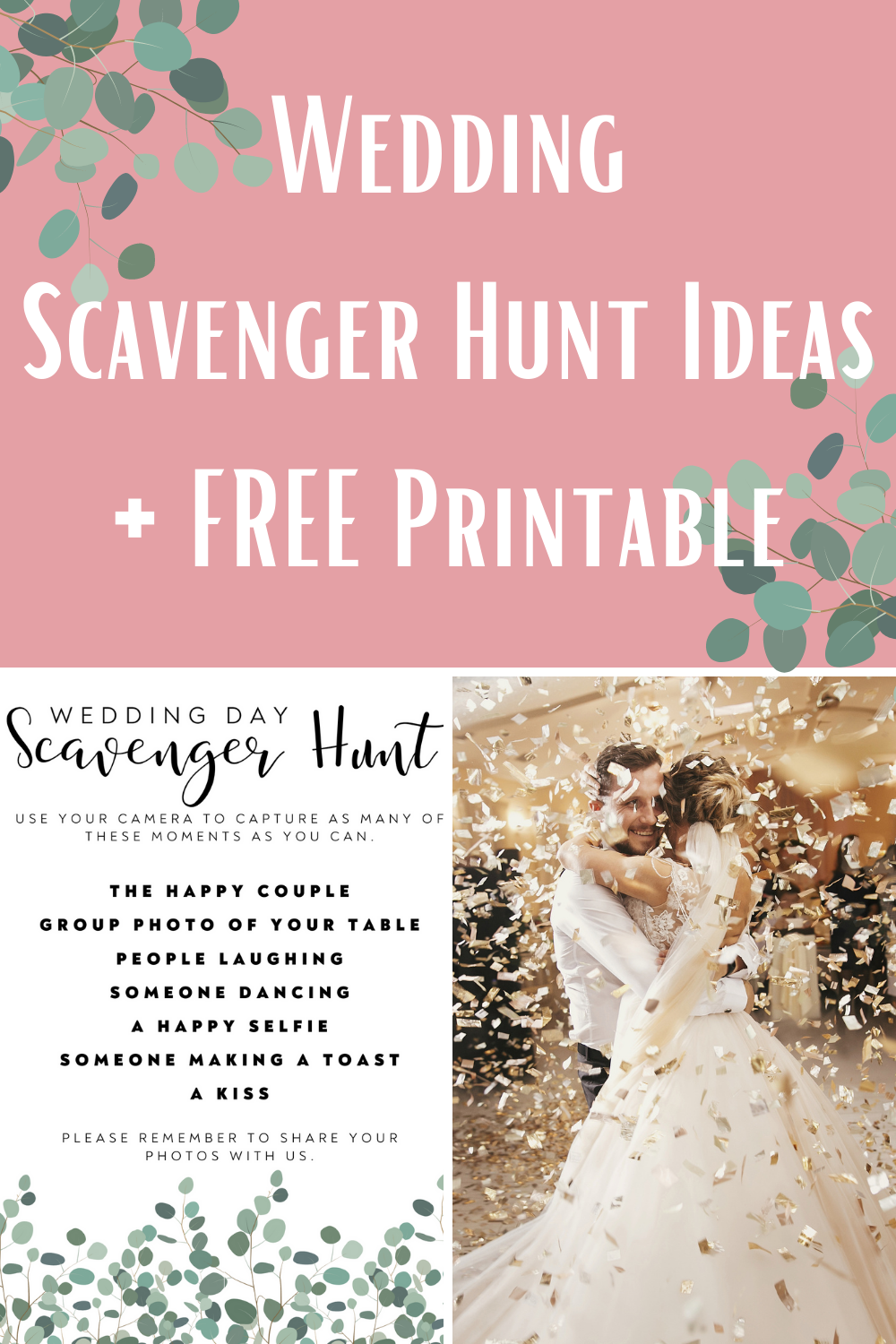 Our FREE Printable Wedding Scavenger Hunt Game
We have come up with the cutest FREE Printable Picture Scavenger Hunt Wedding Game.
How to Play:
Download, Print, and Cut our free scavenger hunt printable. (Helpful Tip: Print on heavy-weight cardstock for a finished look.)
On your big day hand out this fun game to each guest.
Have each guest search for each photo-worthy moment and snap a shot.
Encourage them to post on social media and make sure to tag you. (You could even set out disposable cameras for guests to use.)
Wedding Photo Scavenger Hunt List
These photo ideas are great ideas to add to your wedding scavenger hunt list. Plus you can get tons of great photos that you will enjoy for years to come.
1. The happy couple
2. Group photo of your table
3. People laughing
4. Somone dancing
5. A happy selfie
6. Somone making a toast
7.  A Kiss
8. Toasting glasses
9. Silly Faces
10. A Selfie with the Bride
11. A Selfie with the Groom
12.  Pieces of Cake
13. Your favorite decoration
14. Pretty Flowers
15. Oldest couple dancing
16. A loving hug
17. Tears of Joy
18. The Bride looking beautiful
19. A Bridesmaid
20. A Groomsmen
Wedding Inspired Scavenger Hunt Game Ideas
Here are a few more fun wedding-inspired games, some for kids and even celebrating your anniversary!
Wedding Scavenger Hunt for Kids: This kid-friendly scavenger hunt game is perfect for the little guests at your wedding. With pictures of the items, it will be easy for them to find, and they keep them entertained during the party. It would also be fun to provide them a "prize" if they find all the items.
Wedding Anniversary Scavenger Hunt Ideas: Take a walk down memory lane with this fun printable game. Snap photos of places like where you first kissed, where you had your first date, and even your wedding venue.
Bridal Scavenger Hunt Ideas: This super fun Bachelorette Scavenger Hunt is the perfect wedding celebration game. Planning a bachelorette party can be full of fun drinks, wild dress-up themes, and hilarious games. This bridal game is perfect to keep the night rolling with lots of laughs and fun.
More Fun Wedding Game Ideas