Inside: The Best Toddler Board Games. 
Choosing a board game to play with your toddler can be a tricky proposition. The best toddler board games tend to bring people together in a way that other toys do not because they're collaborative and fun.
There are a few things parents can look for when choosing a toddler board game: It should be colorful (toddlers are really into primary colors), a little silly, and very simple.
Here is a list of our favorite toddler board games, let us know in the comments your favorite.
The Best Toddler Board Games
The Lady Bug Game: Children learn about colors, numbers, and symbols as they help the ladybugs find their way home. And they must do so by avoiding the unfriendly praying mantis and collecting aphids to feed the lazy ants.
Busytown: Kids join Huckle Cat and Lowly Worm to look for hidden objects while racing through Busytown. It's a great way for kids 3 and up to learn to identify specific objects, and work together to achieve a common goal.
Hoot Owl Hoot: In this gorgeously colorful game, two to four players cooperate to help the owls fly back to their nest before the sun comes up. The game helps kids learn about shared decision-making, problem solving, and of course, matching skills.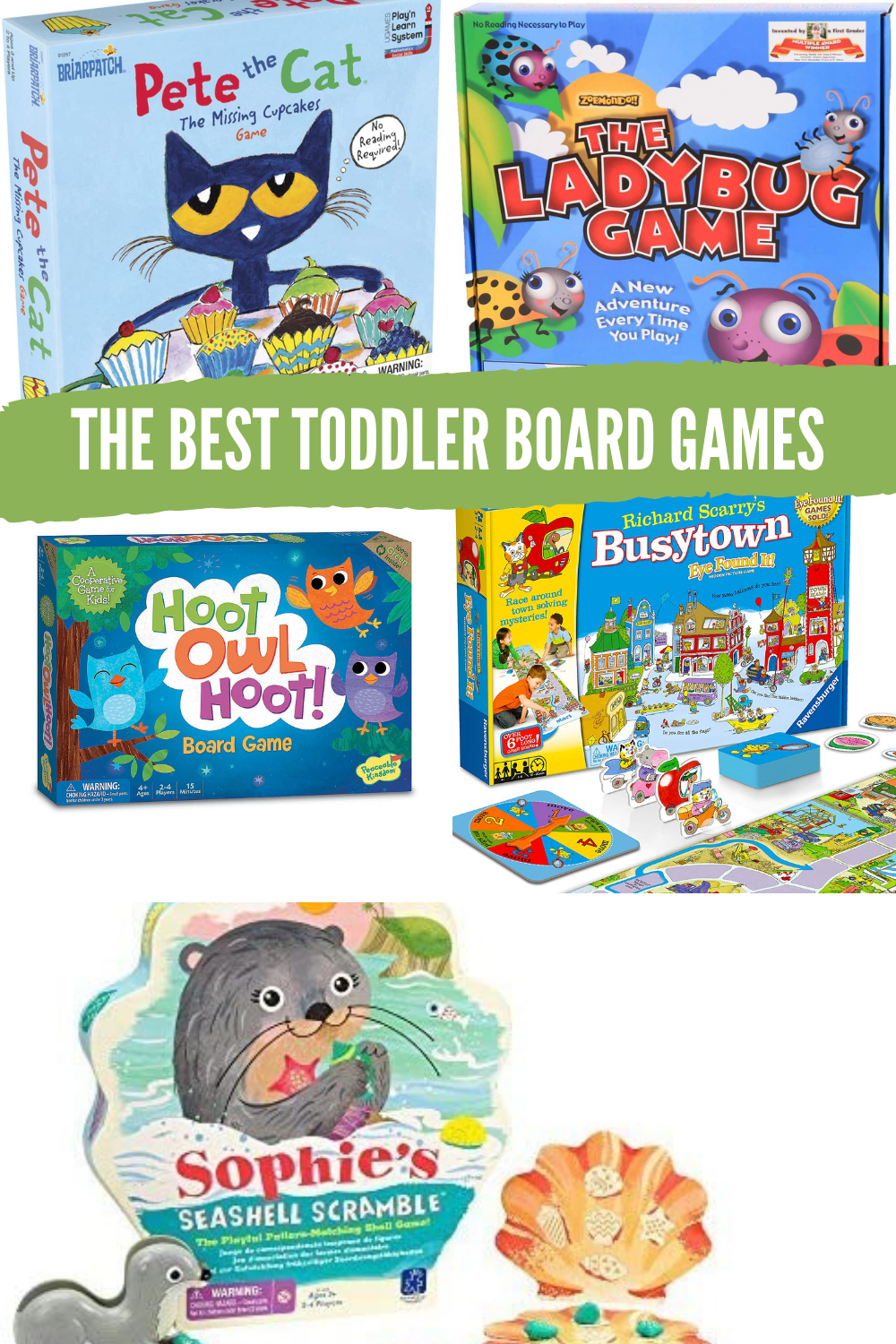 Pete the Cat: Based on the beloved books starring the funky feline, this game has kids singing songs and identifying words and animals as they work together to get the missing cupcakes back from the wily toad.
Sophies Seashell Scramble: Kids match patterns to help Sophie the otter find shells to eat for dinner. They use Sophie's squeezer to get the shells, thus working on their fine motor skills, all while avoiding the machinations of Otto the octopus.
Classic Toddler Board Games
These classic game ideas are perfect for your learning toddler, plus they bring back a pretty fun sense of nostalgia!
Candy Land: Kids only need to know colors, not numbers or counting, to move their own pieces. This is one of my favorite classic board game ideas.
Lucky Duck: It's a little bit memory,  a little bit carnival game. The ducks move on a rotating track and my kids LOVE it.
Let's Go Fishin': Do you remember this one? The fish spin and you try to reel them in. I love this one because kids can play alone OR in a group.
Hungry Hungry Hippos: It's a classic for a reason. Everyone should own Hungry Hungry Hippos. The End.
Count Your Chickens: Players work together to help mother hen collect her chicks and bring them back to the coop; if they are successful everyone wins!
Disney Games Kids Love
Disney Princess Matching Game: The classic game of picture matching gets the royal treatment with Belle, Ariel, Rapunzel and all your favorite Disney Princess characters. Flip over the colorful tiles, find matches and collect the most pairs to win.
Surprise Slides: Race along the twisty trail with your Disney Junior friends! Zip along a colorful path featuring familiar faces From your favorite Disney Junior shows!
Olafs Trouble Game: In this Trouble Disney Frozen Olaf's Ice Adventure game, kids move their real ice tokens through all kinds of adventures along the gameboard.
Amazon Board Games for Toddlers
Roll and Play Toddler Game: They're called toddlers because they're learning to walk at this age. After walking comes dancing, and this game is a great way to inspire toddlers to move and laugh and run. To play the game, simply toss the included plush cube to get a color and choose a card with a matching color.
Snails Pace Toddler Race: This game has players moving six snails along the board, following their color path. The game isn't competitive, so there won't be any board-game bloodshed. In fact, every player follows their snail's path, until they reach the end of the board. Kids learn to take turns, and work at their own pace.
Sneaky Snacky Squirrel Game: This is one of the best-selling preschool games for toddlers. Kids learn about colors as they help squirrels find their acorns, as well as matching skills and taking turns.
Very Hungry Caterpillar: Even if they're not familiar with the classic book — though they really should be! — Let's Feed The Very Hungry Caterpillar is a fantastic game that incorporates counting, collecting, and building.
More Game Ideas for Kids
Board Games for 4-Year-Olds – One of our favorite ways to practice numbers, shapes, cooperative skills, and recognition is by learning from fun. I mean who doesn't love playing games? But add a lesson into that fun and you have a winner for all. These learning fun board games for 4-year-olds are a great way to start teaching basic skills they will need. You and your little one can have the most fun together.
Printable Word Games for Kids – Word games are among our family's favorites. They're fun and versatile. Different ages can play, to the best of their abilities. And they can be played pretty much anywhere, at home or on the go. I love using word games to learn sight words, spelling, and playing on a great theme! We have put together the perfect list of printable word games for kids. They are filled with colorful themes and creative learning fun. Find your favorite and play for hours.
Minute to Win It Games for Kids – I love a good game night, obviously! 🙂 But we have really been into Minute to Win it style game lately. They are fun quick-paced and usually provide LOTS of laughs! These games keep everyone on their toes, and no one gets bored! I usually love playing these games with a large group, recently my kiddos had some friends over and I thought that would be the perfect time to pull of these fun Minute to Win It games for kids. They are all easy to play, pretty inexpensive to prep and are SO much fun!