Inside: The Best Limbo Party Game & Tips
How low can you go? All the way to the floor? The lower you go the higher the chances of winning this fun Limbo party game! Now all there is to do is add a few leis and some fun limbo music and you have one heck of a party! I love throwing a fun themed party, like this Luau Party, which this Limbo party game is PERFECT for. See how to play the perfect Limbo game and some great tips to make even more fun!
How to Play a Limbo Party Game
Supplies: Limbo stick (bamboo or broomstick) and music
The classic game of limbo is a simple challenge to have players go under a pole, limbo stick, without bending/crouching down.
1. First, you will need a limbo stick. (We have linked a few of the best limbo sticks below.) You could also use a broomstick or a straight lightweight stick, one that when it falls won't hurt any of your Limbo party game players!
2. The Limbo party game is usually played with fun music, so find a funky limbo song to play during the game!
3. To Play: Take your limbo stick and have two people hold your pole on each end, the limbo stick should be level and held at the same height! The first height should be fairly high, to be made easy!
4. Turn on limbo music and have guests walk under the stick. The key is that players can only go forward under the limbo stick and only arch backward. You cannot crouch down or bend to the side when going under the limbo stick.
5. The key to this game is that you start the limbo stick high and after everyone has gone under (a turn) then the bar is lowered a few inches and everyone who is still in the game goes under the limbo stick again.
After each round, the limbo stick continues to be lowered and more and more players are eliminated each round. Limbo continues until there is only one person who can go under and they are declared the winner.
3 Tips for Playing Limbo Party Games
1. If you are throwing a themed Limbo party a fun idea is to decorate the end of the limbo stick to match. If your party is at night, try decorating with glow in the dark paint!
2. One of the biggest tips I can give for Limbo is using a limbo stick that is lightweight. Take it from me when that stick falls it might hurt a bit if it's too heavy! So use a limbo stick that is perfectly lightweight for all your party games!
3. Find some fun peppy limbo music for your party. Let players get a groove on while they are trying to get low!
The Perfect Limbo Sticks
Wood Set: This wooden limbo party game stick is perfect if you're looking to amp up your themed DIY decor. You can leave it the way it is or use paint and decorations to make it perfectly Limbo themed!
Inflatable Limbo Game: I love this fun inflatable limbo party game, its festive, fun, and once deflated it's perfect for storing.
Bambo Limbo Stick: The more traditional limbo party game, you will need two players to hold the stick on either end for this game!
A Few Fun Limbo Inspired Games
Check out a few more fun games to play along with your fun limbo game! These pair perfectly with a Luau themed party!
Beach Ball Hockey: Items you need: Pool Noodle for each player. Beach Ball. Cones or soccer goal. The rules are the same as any regular hockey game, but just replace all your regular gear with some fun luau items!
Flamingo Yard Toss: We are obsessed with this DIY Flamingo Ring Toss game! It is the perfect fun DIY Luau party idea!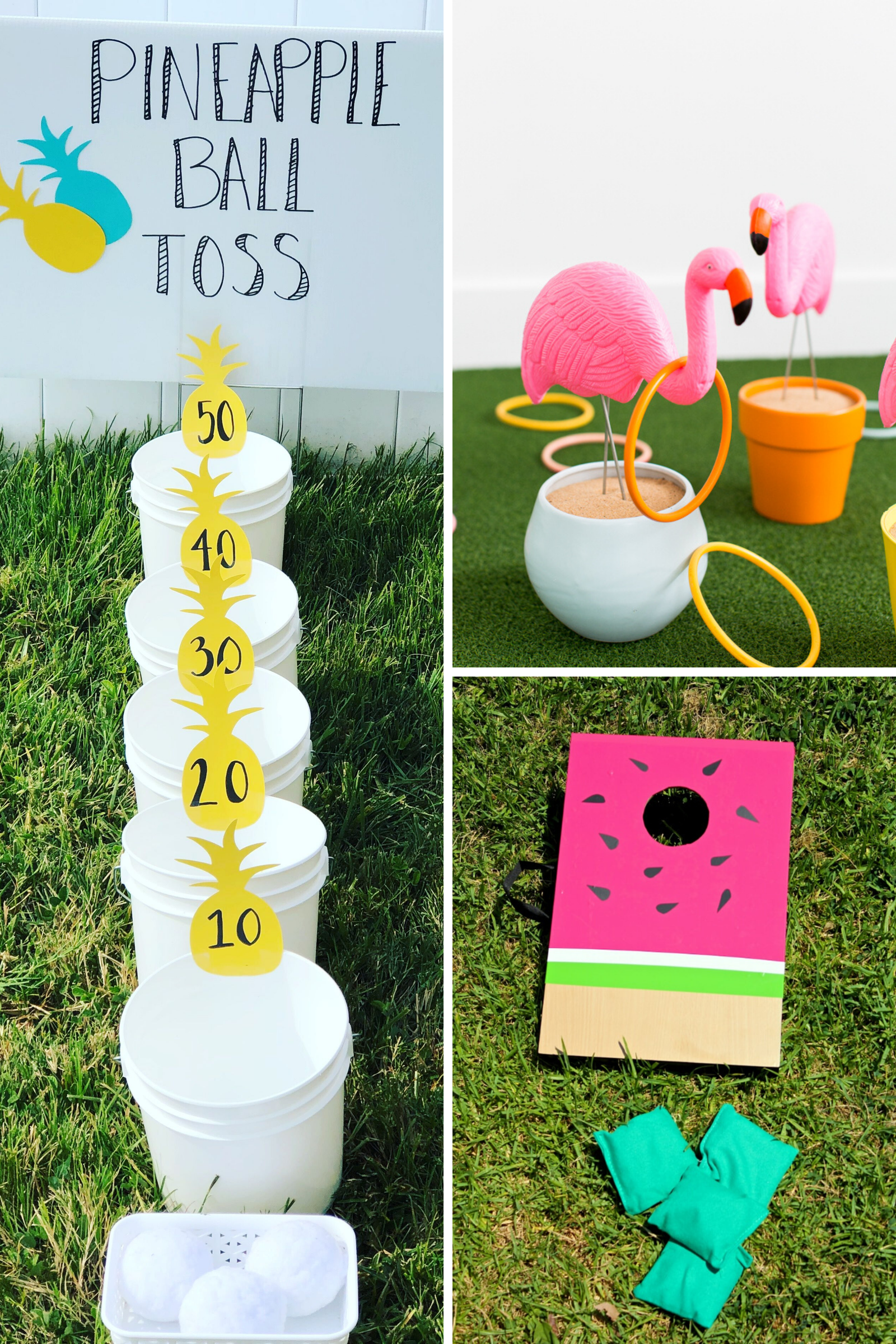 Hula-Hoop Spin: Time you luau guests to see who can keep their hula hoop spinning the longest!
Pineapple Bowling: Yeah, we said it, PINEAPPLE BOWLING! Grab some pineapples and coconut and let the party begin. We love this glammed-up version here, it's not only fun but SUPER CUTE!
Hula Competition: Grab those grass skirts and cue the music, it's time to get a little friendly luau competition going! Really play up the performance aspect of this competition including costumes and best dance moves. The winner can win a huge tiki head or a golden grass skirt! The possibilities for this fun luau game idea are endless!
Happy Limbo, these limbo party game tips and tricks are perfect for your next big bash! Let us know in the comments how low you can go!