Inside: The Top Coop Board Games to Play.
When it comes to planning a great game night, coop board games are one of our favorites to play. They require strategy, alliances, and a great group of players. This fun list contains some truly excellent co-op board games, which aren't just great cooperative experiences but make for a fantastic time in general.
Good cooperative board games provide plenty of opportunities for players to band together against some great threat or combine their intellects to create the best strategies.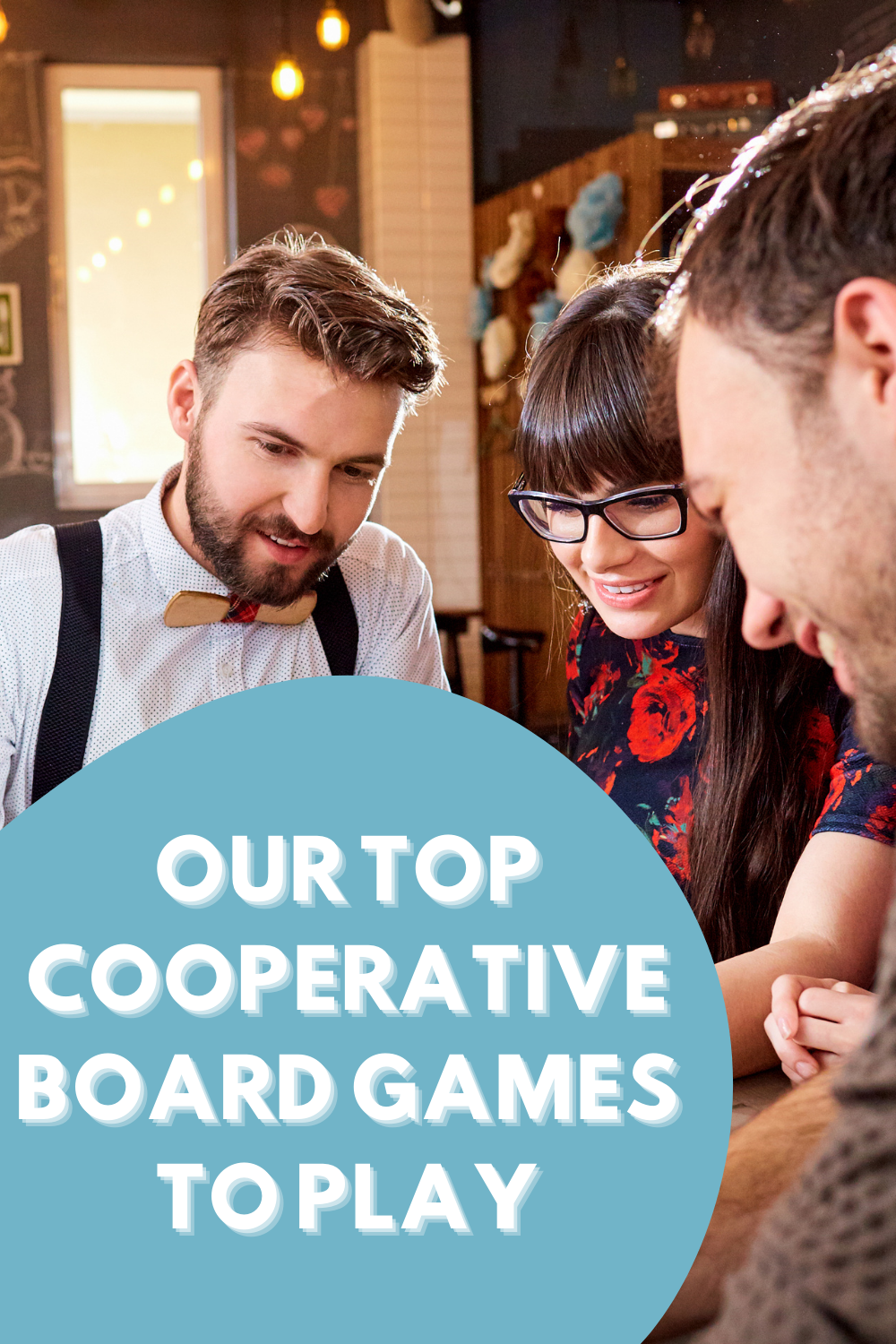 Our Top Cooperative Board Games to Play
Magic Maze: Magic Maze is one of the top cooperative real-time games out there right now and it's also a great family game. It's pure chaos as you try to work together to move the characters around while not being able to say anything to each other.
Maximum Apocalypse: This post-apocalyptic survival game comes with a dozen enjoyable and replayable missions to play through (plus more in the expansions). The characters have unique decks and are all fun to play, and it's the type of game that requires a high amount of cooperation to beat.
Castle Panic: Castle Panic is a go-to gateway and family game for many people and it's one of very few really good cooperative tower defense games out there right now. It also becomes a solid gamer's game once you add in one or more of the expansions.
Forbidden Desert: Forbidden Island also could have gone in this spot as the two games have very similar feels to them, but they do have very different themes. Both are great gateway games, though Forbidden Desert has a little bit more going on in it as you attempt to clear sand, find parts, and escape.
The Grizzled: There still isn't anything else quite like The Grizzled. It's a war game, but it's really all about working together to survive during World War I. It's a light-but-tough cooperative card game with a unique war theme.
Game Night Board Game Ideas
If you're looking for a fun game night idea, these fun cooperative board games are some of our favorites.
Quirky Circuits:  Quirky Circuits is a great limited communication programming game in which you're attempting to move one of the game's four robots around a map and accomplish goals before its battery runs out. Quirky Circuits is a really fun game that works just as well for families as it does for adult gaming groups.
Dawn of Peacemakers: This is a cooperative adventure game with an awesome theme. Instead of fighting in the animal war, you're there to keep the battles balanced so hopefully there will eventually be peace. It's a very cool campaign game with a lot of great surprises in the box.
Flash Point: Fire Rescue: If you like the firefighting theme at all, Flash Point is a must-own. Gamers of all ages get a kick out of running into a house, putting out fires, and saving as many people (and pets) as they can. It's a great family game with a theme that everyone can get into.
Hanabi: Hanabi started the recent limited communication craze and it is still one of the best ones out there. I've played it many times and with many groups and I still have a blast trying to put those fireworks in order. It also works quite well as a co-op gateway game.
Resident Evil 2: This is a great survival campaign game and one of the better video game-inspired board games out there right now. It has a great flow to it yet there are plenty of tough decisions to make throughout each mission. Fans of the Resident Evil 2 video game will love this one.
Cooperative Board Games Everyone Will Love
Dragonfire: Dragonfire is a very fun deck-building campaign game set in the D&D universe. Watching your characters improve throughout the campaign is very satisfying, the game is surprisingly easy to play, and there is a ton of content in the box.
Black Orchestra: I think everyone in my group likes this game even more than we did back when I posted my review for it. It has an interesting mix of mechanics, including pick-up and delivers and push-your-luck dice play, that just work well together in this game for some reason. It's very hard to assassinate Hitler, but the game is never frustrating.j
Codenames Duet: This is one of the best two-player cooperative games and arguably the best version of Codenames that you can buy. It's also one of the best filler games out there, so it gets to the table a lot. If you're a fan of word games and/or deduction games, you really have to give Codenames Duet a play.
Spirit Island: My group's rankings are all over the place for this one. Some love the game's complexity while others find it to be a bit too much. Spirit Island is in my personal Top 10 because I'm a huge fan of the asymmetrical spirits and the twist on the colonization theme.
V-Commandos: What makes V-Commandos one of the best cooperative board games is that it does a great job of making players actually feel like highly trained commandos. You focus on staying undetected most of the time so you can complete objectives, which definitely ratchets up the tension.
More Game Ideas You'll Love
College Party Games – Oh the good old college days, you gotta love them. We all love a great party and a college party is one of the best. From game-day tailgates to farewell party these college party games are meant to have a great time with all your best friends. Check out these fun games for a lot of college fun.
Best Amazon Board Games: Ditch the TV and let the games begin! We love a good game night, whether its a game night with the kids, our adult friends, or as a family this list of 25 Best Amazon Board Games make for one FUN game night full of laughs and fun. Now I cannot promise there won't be a little friendly funding but don't worry it won't last long!
Ice Breaker Games for Parties – I love a good party, nothing is better than good food, fun music, and great people. But there is always that little bit of an awkward time when everyone is just arriving and the party has quite kicked off! Don't let those awkward silences or uncomfortable first meetings ruin your good time. Here are 43 of the most hilarious ice breaker games for parties!